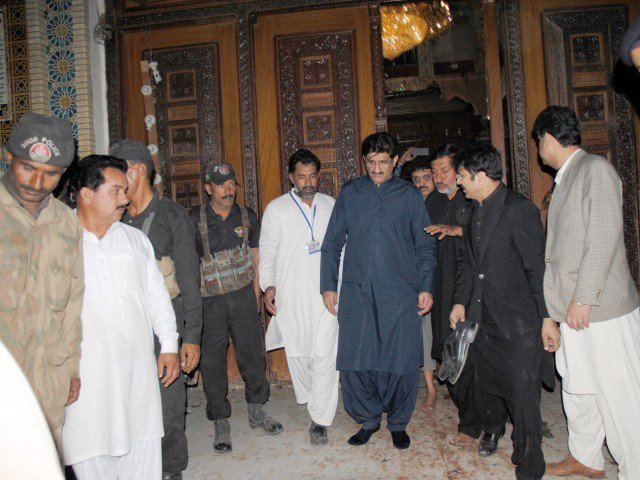 ---
Entire nation is saddened over the brutal terrorist attack in Sehwan that claimed 88 innocent lives, Sindh Chief Minister Murad Ali Shah said, adding that those inciting violence were tantamount to being the accomplices of terrorists.

"The nation has been hit by grief and is angered due to the act of terror in Sehwan and those attempting to spread violence among the masses instead of condoling with them are in fact aides of terrorists," Shah said during his visit to Lal Shahbaz Qalandar's shrine on Sunday.

Pak-Afghan border: Trainer of suicide bombers killed in artillery shelling

The incident, the chief minister said, is being investigated from all angles and with the help of close circuit television (CCTV) cameras, with law enforcement agencies making strenuous efforts to nab the culprits. "We will soon reach the core of the matter."

He added that everyone knows that the Lahore and Sehwan attacks lead to Afghanistan.

Shah further said that they are thankful to the law enforcers, especially Pakistan Navy and Air Force, but the Sindh government had overcome the situation prior to commencement of their relief operations.

He admitted that the injured in Sehwan had to be shifted to hospitals in Karachi and other cities in the absence of proper medical facilities which contributed to the rising death toll. "But we did whatever we could [to save lives]."

Security measures

The Sindh chief minister said that the government will improve security conditions at shrines and important sites in line with the measures adopted at shrines in Punjab, as advised by Prime Minister Nawaz Sharif and Finance Minister Ishaq Dar.

He assured stringent security during the forthcoming Urs of Laal Shahbaz Qalandar, saying terrorists had earlier taken advantage of security loopholes and inadequate number of police personnel at such places.

Bodies found in garbage

He reiterated that he was shocked that some body parts of terror victims were reportedly found in garbage, promising punitive measures against those responsible.