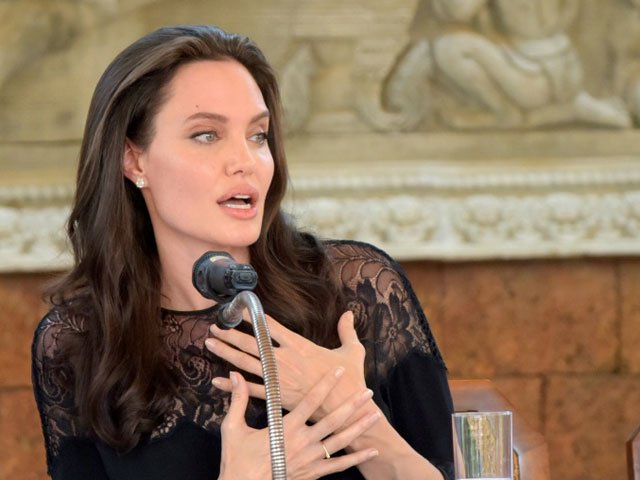 ---
Angelina Jolie unveiled her new film on the horrors of the Khmer Rouge era on Saturday at the ancient Angkor Wat temple complex in Cambodia, a country the star shares a deep affinity with through her adopted son Maddox.

Cambodia's king and survivors of the communist regime were among hundreds of people invited to the debut screening of

First They Killed My Father

, directed by Jolie and based on the memoirs of Loung Ung.

Loung Ung was five years old when Khmer Rouge troops, led by Pol Pot, swept into Phnom Penh plunging her family into a harrowing ordeal that saw them sent to brutal labour camps before her eventual escape to the United States.

The plot thickens: Angelina Jolie questioned by FBI


In its quest for an agrarian Marxist utopia, the regime killed up to two million Cambodians between 1975-79 through execution, starvation and overwork.

It is the second movie by Jolie to tackle the subject of genocide -- in 2011 she made a film about the Bosnian conflict featuring mostly local actors.

But her latest silver screen offering is more personal.

Jolie adopted her first child Maddox from an orphanage in Cambodia's western Battambang province in 2002 and she has been given Cambodian citizenship.

The Hollywood star previously said it was Maddox who pushed her to make the film.

At a press conference in Siem Reap, Jolie described Cambodia as a "second home", adding that she chose Loung Ung's book because she wanted to tell the story of the Khmer Rouge era "through the eyes of a child".

It also brought her closer to her son, she said.


"I wanted to focus not just on the war but on the love of family and on the beauty of the country and in fact I wanted to understand what my son's birth parents may have gone through. And I wanted to know him better and I wanted to know this country better," she said.

Jolie's six children, three of whom are adopted, accompanied their mother for an audience with King Norodom Sihamoni before the premiere.

Angelina Jolie, Brad Pitt reach custody agreement over children

Local cast and language 

In a tribute to those who survived the brutal regime, Jolie pushed to ensure the film would be both made by Cambodians and accessible to them.

Almost the entire film is in the Khmer language while the cast members and much of the crew were local hires, including the two child protagonists.

The film is also co-produced by Rithy Panh, Cambodia's most acclaimed film-maker.

He lost almost all his immediate family during the Khmer Rouge years but went on to produce searing documentaries that helped break the silence surrounding the genocide.

Loung Ung, who Jolie described as a "family friend", said that while the film centred on her family's experience, her story would be familiar to all Cambodians.

"I view it as the story of all of us," she told reporters.

Despite the prosecution of a few top Khmer Rouge cadres, the genocide continues to be a controversial subject.

Strongman Prime Minister Hun Sen, who was a former regime cadre before he defected and has run the impoverished country for more than thirty years, is opposed to any new prosecutions of regime leaders.

But the Cambodian government has welcomed Jolie's film so far.

Veteran foreign correspondent Elizabeth Becker, one of a handful of western journalists to visit Cambodia during the Khmer Rouge era, described Jolie's film as "heartrending".

Angelina Jolie 'blocks Brad Pitt's number' after filing for divorce

Jolie said she hoped her film would remind viewers of the need to help children escaping war and persecution today.

"There are little Loungs all around the world today in many different countries, many different war zones where we have no access to them and we don't know if they're going to be alright," she said.

The premiere will be followed by screenings across Cambodia, some seven months before the film is released to a global audience on Netflix.

Jolie's arrival in Cambodia marks a rare public appearance since her high-profile split last year from Brad Pitt.

Have something to add in the story? Share it in the comments below. 
COMMENTS
Comments are moderated and generally will be posted if they are on-topic and not abusive.
For more information, please see our Comments FAQ