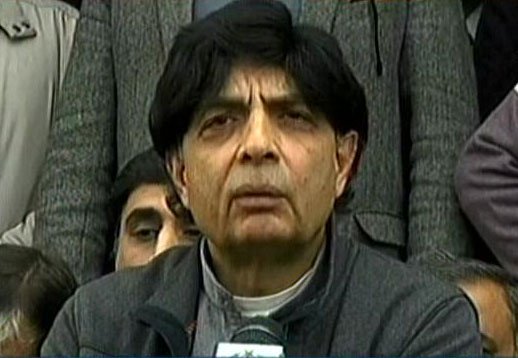 ---
SUKKUR/ ISLAMABAD: Interior Minister Chaudhry Nisar Ali Khan has said that the civil and military leadership has decided that even diplomatic consideration will not impede action against terrorists in order to ensure the country's security.

"During a recent high-level security meeting it was decided that even diplomatic consideration will not impede actions aimed at ensuring national security and peace," Nisar told journalists on Saturday — a day after Pakistan's military decimated hideouts and training camps of terrorists on the border with Afghanistan.

Nisar said the recent counterterror operations were the first response made as part of an overall strategy evolved during the high-level meetings. "More actions will follow to eliminate terrorism emanating from foreign soil, as well as against their facilitators present inside the country."

PM Nawaz, army chief visit Sehwan as death toll rises to 88

"The terrorists and their facilitators will be dealt with an iron fist, and in coming days and weeks action will be taken without any consideration whatsoever," he said, adding that those who targeted innocent people, whether they were inside the country or came from foreign lands would not be spared.

Nisar said investigations into recent terrorist attacks have established that a coordinated effort was being made to disrupt improving peace and normalcy in the country. "It has become very clear that foreign powers and their intelligence agencies are involved in creating unrest in Pakistan," he added.

World condemns Sehwan attack

Nisar said it had also been established that Afghan refugees were used during recent terrorist incidents. "I appeal to Afghan refugees to identify the black sheep in their midst who facilitate terrorists and terrorist activities," he said.

The minister noted that Pakistan has been hosting Afghan refugees for the last 30 years and has looked after them despite its own problems. "It is now a responsibility of the Afghan refugees to identify the black sheep who are disrupting peace in Pakistan," he said.

Talking with reference to Sehwan shrine bombing , Nisar said providing security at Sehwan Sharif was the responsibility of the Sindh government, adding that he had himself witnessed the insufficient level of security provided at the shrine but would 'refrain from commenting on it'.

"However, it is unfortunate that some people in order to hide their criminal negligence and poor performance are politicising this incident," he said.

Nisar said during the last three years he had strictly followed a principle not to blame anyone or attempt making political gains against his opponents over terrorist incidents but the statements issued during the last 24 hours by few political leaders of a party were 'highly regrettable'.

"This continues to show their performance and their mentality. If such statements continue, I will bring all the facts and figures with regard to security at Sehwan Sharif before the people of Sindh and the country," he added.

Talking with reference to the investigation into the Sehwan bombing, Nisar said no headway had been made as yet. However, he said, the culprits involved in last week's Lahore and Peshawar attacks had been identified.

Shah blames interior ministry

Describing non implementation of the National Action Plan (NAP) as the cause of the recent wave of terrorism, opposition leader Khursheed Shah said it was a failure on the part of the interior ministry.

Coming down hard on Interior Minister Nisar, he said the security czar's non-serious attitude was harmful for the country.  "His non-seriousness is evident from his absence from the meetings held to discuss extending the tenure of military courts," he said, while talking to media on Saturday in Jacobabad.

"Besides establishment of military courts, the 20-point NAP was also carved but it is ironic that it was not implemented in letter and spirit – a fact admitted by both by the former army chief and the prime minister," he said.

(WITH ADDITIONAL REPORTING BY SARFARAZ MEMON IN SUKKUR)

Published in The Express Tribune, February 19th, 2017.