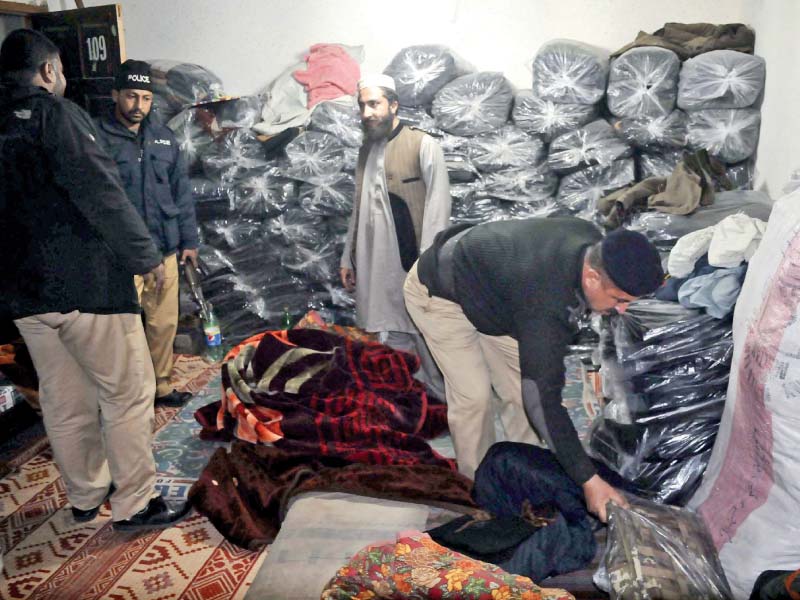 ---
ISLAMABAD: Law enforcement and security agencies in Islamabad continued a search operation in different parts of the capital for a second consecutive day on Saturday, detaining 57 suspects, including three Afghan nationals.

Separately, security at educational institutions was also beefed up.

According to police spokesperson, officers of Islamabad Police, Rangers and other security agencies conducted search operation in various areas falling within the remits of Secretariat police station including Muslim Colony and Bari Imam.

During search operation – in which women police officers and the anti-riot unit also participated – over 300 houses were searched in the Secretariat area.

Police said they arrested 12 suspects during the search and recovered guns and at least three motorbikes without documents from the suspects.

Those detained were shifted to the Secretariat station for further investigation.

Separately, a search operation was conducted by police in Industrial area. During this operation, police detained 45 suspects, including three Afghan nationals. They were shifted to the Industrial area police station for further investigation.

SSP Islamabad Sajid Kiani urged citizens to remain vigilant and inform the police about suspicious activity around them.

Security in IIUI beefed up

In the aftermath of the recent bombings in Sehwan and Lahore, security at campuses of the International Islamic University have been beefed up.

IIUI Rector Dr Masoom Yasinzai remarked that the recent wave of terrorism in the country warrants immediate measures to devise a comprehensive policy regarding security measures on campuses.

Earlier, the university's chief security officer briefed the participants about security measures, and initiatives to beef up security.

Two dozen detained in G-B

Police have arrested nearly two dozen suspects over the past two days in Gilgit-Baltistan after law enforcement agencies beefed up security in the region.

"About 22 people were arrested on Friday and Saturday after security and vigilance was enhanced [in the valley]," a police official said on Saturday.

"Those arrested did not have valid computerised national identity cards  nor any other valid documents."

According to police, those detained include seven Afghan nationals identified as Yar Yar Gul, Hasan Khan, Asifullah, Samiullah, Hijirat Khan, Said Agha and Abdul Raheem. Others detained mostly belong to K-P.

Separately, Inspector General Police (IGP) Zafar Iqbal Awan held a meeting to review security measures in place. The IGP also visited control room setup under safe city project recently. Over 200 high-resolution cameras with night vision capabilities were installed in Gilgit.

"The IGP has asked staff to ensure better supervision through the cameras," said a police spokesperson Ghulam Muhammad. Moreover law enforcement agencies have increased checking at entry points and started search operations against suspects in hotels and other areas.

Surveillance in Muzaffarabad

Muzaffarabad Deputy Commissioner Tehzeebun Nisa has said that surveillance and monitoring gadgets would be used to monitor sensitive areas in the city.

Addressing an oath taking ceremony on Saturday, she said that proposals regarding the matter have been forwarded to AJK Chief Secretary for consideration.

Under the plan, she said walkthrough gates and CC TV Cameras would be installed at all entry and exit points of to the city and sensitive areas. Moreover, a central control room would be established.

WITH ADDITIONAL INPUT FROM SHABBIR MIR IN GILGIT AND APP

Published in The Express Tribune, February 19th, 2017.
COMMENTS
Comments are moderated and generally will be posted if they are on-topic and not abusive.
For more information, please see our Comments FAQ