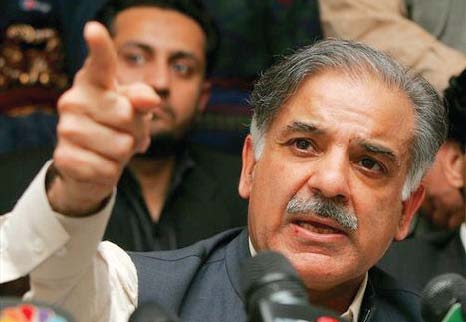 ---
LAHORE: Terrorists will be held accountable for every drop of blood of Pakistanis, said Punjab Chief Minister Shehbaz Sharif on Saturday.

"We will not rest until the killers who steal the lives of children from their parents are flushed away," he said in a statement issued to condemn the latest wave of bombings across the country.

"I have met the families of the martyrs and found their enthusiasm and dedication very strong," he said. "Despite the grief, the families of the martyrs are enriched with patriotic passion."

Shehbaz said the coward enemy could not defeat the courageous and enthusiastic Pakistani nation. "We have to win this battle of survival against terrorism at all costs and will fight this war till the annihilation of the last terrorist."

"We will not let go to waste a single drop of blood and will fulfil the responsibility of giving a peaceful, secure and prosperous Pakistan to the future generations," Shehbaz said , terming the Lahore blast an 'enemy conspiracy'. "Everyone is saddened over the loss of precious human lives and the entire nation shares the grief of the families of those killed."

He said the police officials sacrificed their lives for a great cause and set a great example of dutifulness.

Published in The Express Tribune, February 19th, 2017.
COMMENTS
Comments are moderated and generally will be posted if they are on-topic and not abusive.
For more information, please see our Comments FAQ