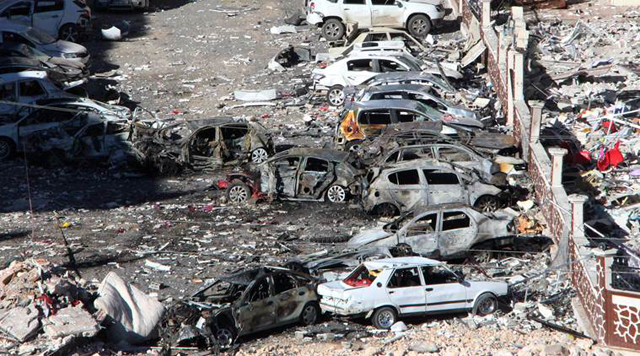 ---
ISTANBUL: Turkish authorities on Saturday blamed Kurdish militants for a car bombing which rocked the southeastern province of Sanliurfa, close to the Syrian border, and detained 26 people in connection with the attack.

The explosion struck the district of Viransehir on Friday night, killing a 10-year-old and a neighbourhood watch guard.

The office said 26 people were detained including the suspected owner of the car used in the blast, which Dogan news agency said was caused by a tonne of explosives. Some 17 people were also injured in the attack on a housing complex where courthouse workers and security personnel live.

Car bomb in Turkey's southeast kills child: governor's office

Sanliurfa governor Gungor Azim Tuna told the official news agency Anadolu that the outlawed Kurdistan Workers' Party (PKK) was to blame. "We believe this terror attack was conducted by the PKK terror organisation," Tuna said.

The PKK is proscribed by Ankara, the United States and the European Union as a terror group. The group has been waging an insurgency against the Turkish state since 1984 during which over 40,000 people have been killed.

Last year saw a series of attacks in Turkey blamed on Kurdish militants and Islamic State (IS) extremists while 2017 began with a bloody start.

During New Year celebrations a suspected IS jihadist killed 39 people, most of whom were foreigners, in an armed attack on a popular Istanbul nightclub.

Turkey detains 800 over alleged links to Kurdish militants

IS claimed the attack and a few days later the Kurdistan Freedom Falcons (TAK), a splinter group of the PKK, claimed responsibility for an attack that left two dead in the Aegean city of Izmir.

The latest attack came after President Recep Tayyip Erdogan kicked off his campaign for a "yes" vote at the April 16 referendum on expanding his powers in the province of Kahramanmaras, close to Sanliurfa.
COMMENTS
Comments are moderated and generally will be posted if they are on-topic and not abusive.
For more information, please see our Comments FAQ