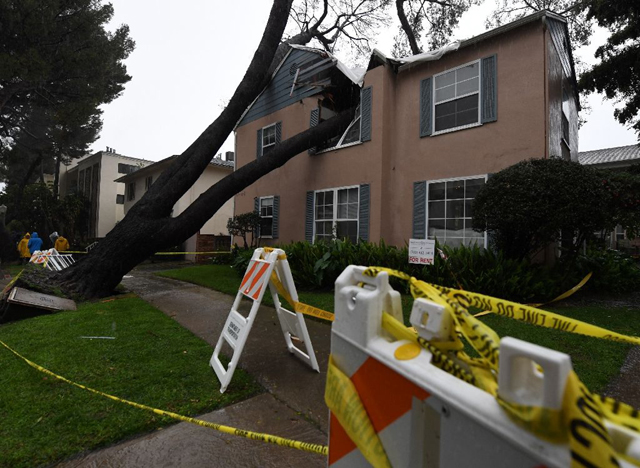 ---
LOS ANGELES:
One of the strongest storms in years pounded California, forcing the evacuation of hundreds of people from their homes, causing power outages and prompting flight delays and cancellations.
Los Angeles fire officials said one person was electrocuted after a tree downed a power line and several people stranded near the Los Angeles River had to be rescued with inflatable boats.
There were reports of some 150 downed electrical lines that left many people in the city without power. An official at Los Angeles International Airport said 64 flights were cancelled and 269 delayed because of the storm.
Crumbling California dam spillway prompts urgent evacuations
Flash flood warnings were meanwhile issued in many areas of the state, which has been hit this winter by a series of storms that have filled reservoirs, bringing respite following a severe five-year drought.
The latest storm, which packed heavy wind-driven rain, was mainly affecting southern California but rain was also forecast in the central part of the state up to the San Francisco Bay Area.
Residents of the city of Duarte, located in the foothills of the San Gabriel Mountains east of Los Angeles were ordered to evacuate on Friday for fear of mudslides and voluntary evacuation orders were issued for some residents of Camarillo Springs, north of LA.
"The storm looks to be the strongest to hit southwest California this season," the National Weather Service in Los Angeles said.
It warned that the storm -- which could bring up to an inch (2.5 centimeters) of rain an hour -- will likely cause mudslides and flooding. The agency urged people in affected areas to remain on the lookout for downed trees and power lines.
Thousands remain in shelters as crews work to fix California dam channel
"Possible impacts due to potentially widespread heavy rain include flooding for urban areas and small streams, flash flooding with mud and debris flows, especially near and below recent burn areas, and mud/rockslides near canyon walls," the National Weather Service said.
It said the northern part of the state -- where flooding last week damaged the Lake Oroville dam and forced the evacuation of nearly 200,000 people -- was not expected to have heavy rainfall.
The inclement weather was expected to last through Saturday.
COMMENTS
Comments are moderated and generally will be posted if they are on-topic and not abusive.
For more information, please see our Comments FAQ