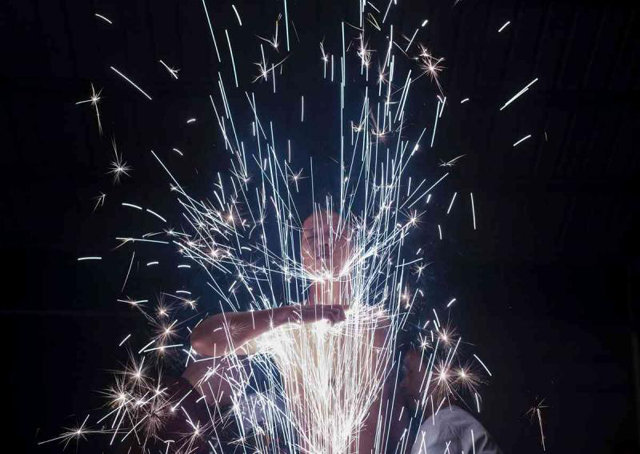 ---
FANGSHAN, CHINA: Villagers in eastern China have a unique way of washing away the taint of evil spirits - by bathing in a shower of scorching sparks.

The ritual takes place in the city of Putian in Fujian province, where China's Hakka people are concentrated and hold extended celebrations for the annual Lantern Festival, which officially fell on February 11.

The ceremony in the village of Fangshan begins when eight local men selected by village elders don ancient-style Chinese dress to pray in a temple for protection from the Buddha.

Afterward, they remove the costumes and are escorted bare-chested to an adjacent square.

In pictures: Chinese New Year celebrations

With eyes closed, they lean their faces into fireworks that spit out white sparks, which has given the ceremony its local name, "eating flowers". Later, some of them twisted and turned to expose more of their bodies to burn away evil.

"I wasn't myself when I was doing it," said Zheng Yinquan, alluding to his trance-like state. Zheng, who left his college studies to take part after hearing that he had been selected, said he felt no pain.

"This is not a performance. It is a very serious ritual. We hope by doing this, we can pray for the safety of all families in the village," Zheng said.


COMMENTS
Comments are moderated and generally will be posted if they are on-topic and not abusive.
For more information, please see our Comments FAQ