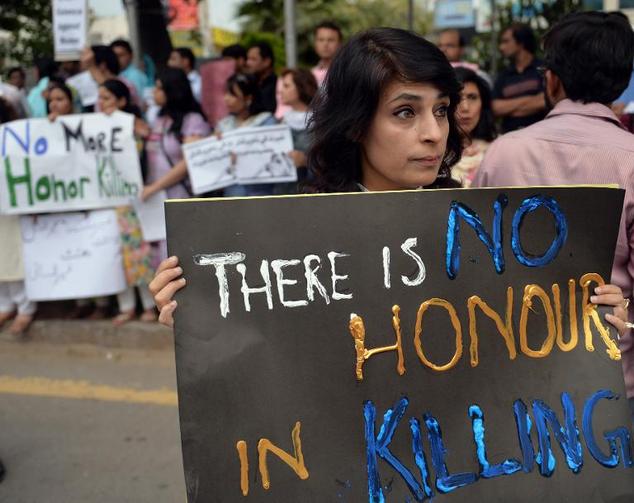 ---
PESHAWAR: The passage of the Anti-Honour Killing Laws (Criminal Amendment Bill) 2015 and the Anti-Rape Laws (Criminal Amendment Bill) 2015 last year has done little to curb the barbarism of murdering family members 'honour'.

In Swat district alone, this year has already seen more than nine women murdered in the name of honour – including three who were murdered by their family members during the past five days.

The rapid rate of honour killings has horrified people in the country.

Last year, 1,096 women and 88 men were killed in honour crimes, according to the independent Human Rights Commission of Pakistan. In 2014, the number was 1,005 women, including 82 children, up from 869 women in 2014.

The true numbers are believed to be higher, with many cases going unreported, activists say. Some human rights and women's rights activists believe the rise in numbers and brutality reflects an older generation digging in against creeping change.

Honour killings: PPP lawmakers submit calling attention notice

A 14-year-old girl was killed by her uncle in Swat's Uttror valley after he saw her talking to her cousin on a cellphone.

"He shot and killed her before burying her in the snow with the help of his family members," local journalist Mujahid Tanoli told The Express Tribune.

"She was offering morning prayers when her uncle Ajab Gul murdered her because he saw her talking to her cousin on her phone. He thought she was in a relationship with him."

"This has not happened in this area for the first time. The lives of women have no value here. Men kill them to save their families' 'honour', and families feel proud of carrying out this brutal act."

Two more women were murdered in the Matta area of Swat. Shabeena, 25, was killed by her husband Inamullah, and Shaheen, 37, was also killed by her husband. In both cases, the men killed their wives on suspicion of their having extramarital affairs.

SHO Bakht Sher told The Express Tribune that the police had lodged an FIR against the culprits and arrested them.

"The girl who was killed in Uttror was buried in the snow, and when the police asked the family members for permission to conduct a postmortem, they refused, saying it was against their culture."

No foul play detected in couple's death, say police

But in a relatively unusual turn of events, "The police then registered another FIR against them for interfering in police proceedings," Sher added.

Erfaan Hussein Babak, the head of a Swat-based NGO, said, "In the majority of cases, men killed their wives for having extramarital affairs."

He then criticised the limited implementation of laws protecting women.

"About 90 per cent pro-women laws have not been extended to the Provincially Administrated Tribal Areas (Pata) and the government does not even bother trying to protect women in these areas, which gives the men a licence to kill women."

Published in The Express Tribune, February 18th, 2017.
COMMENTS
Comments are moderated and generally will be posted if they are on-topic and not abusive.
For more information, please see our Comments FAQ