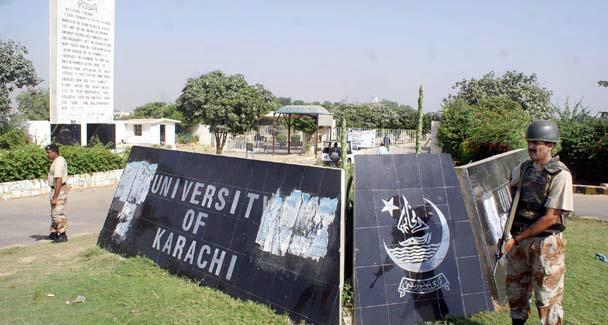 ---
KARACHI: University of Karachi's (KU) first syndicate session commenced on Friday under the supervision of the new vice-chancellor (VC) Prof Dr Muhammad Ajmal Khan.

The syndicate approved the minutes of the previous syndicate meeting that was held on December 29 last year under the supervision of the then VC Prof Dr Muhammad Qaiser. The minutes were approved along with the implementation report on the resolutions.

The sealed report of Prof Dr Sulaiman Muhammad who is the VC of Federal Urdu University of Arts, Science and Technology was opened in the meeting. However, it was decided to provide the copies of the report to the members so that they may give their opinions on it.

Dr Sulaiman is facing charges for plagiarizing a thesis for his PhD from KU. The preliminary investigation reports in the cases of Dr Shahnaz Ghazi, Dr Obaid Khan, Dr Naeem Qureshi, Dr Zahid Ali Zahidi and Dr Shaheen Khan will be sent to the plagiarism committee and the committee will follow their due process according to the plagiarism policy.

Approval, in principle, was accorded to increase the amount of rent collected from the bank branches and booths at the varsity, however, it was decided that a new agreement will be prepared for presentation before the committee after legal vetting.

Meanwhile, financial assistance for the family of slain assistant professor Dr Waheedur Rehman was also approved. According to the financial assistance package, Rs50,000 per month will be given to the family of the deceased for twelve years.

Approval for granting only non-practicing allowance was also given to senior medical officer of the varsity Dr Nadeemuz Zaman. Meanwhile, Muhammad Akbar's appointment on budgeted post at directorate of physical education of the varsity was also approved.

Published in The Express Tribune, February 18th, 2017.