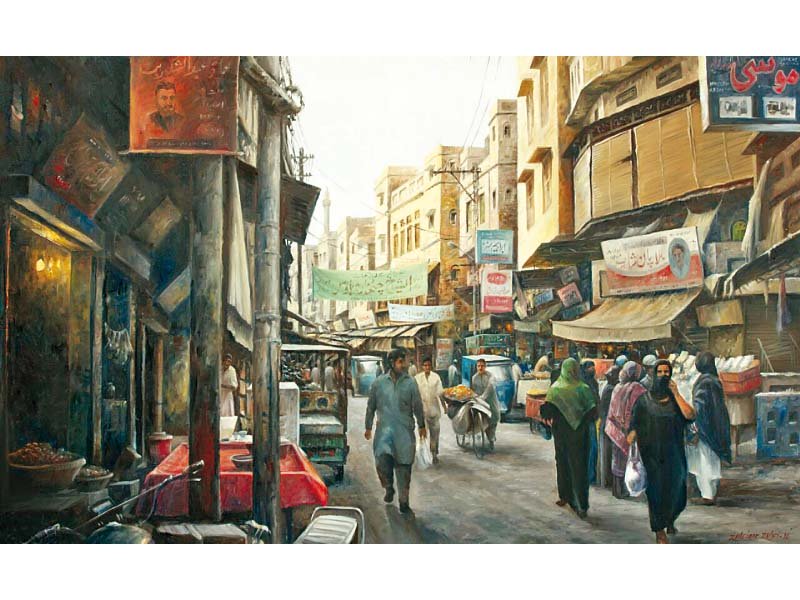 ---
LAHORE: A solo show titled 'Lahore Nostalgia' consisting of 50 pieces in oil on canvas by celebrated artist Zulfiqar Ali Zulfi is currently on display at Zulfi's Art gallery till February 28.

Through his latest series of mural paintings, the artist wants to portray the daily street life of Lahore's old city areas with a focus on its subjects and residents, instead of its much celebrated and observed architectural beauty.

Talking with The Express Tribune, Zulfi said his series was unique in a way that there had been little artwork done previously. "I have tried to achieve richness in detail and life to my paintings, giving the viewers a feeling they are actually standing there in the old city," he explained. "I wanted to bring about a feeling that one gets when you enter these old streets bustling with activity."

Zulfi said he also tried to capture light during multiple times of the day and seasons, as some of his paintings depicted afternoon while others depicted sunset and dusky skylines.

Locations that Zulfi chose to depict in his paintings include the Lohari Gate, Lohari Mandi, Bhatti Gate, Delhi Gate, Sheran Wala Gate, Shahalmi Gate, Heera Mandi and its adjacent streets.




According to art critic and educator Quddus Mirza, Zulfi's latest works – like his previous paintings – portray man-made and natural elements in harmony.

"Traces of historic structures from old part of the town, a receding (rather reluctant) sky, setting sun, fading outlines, feeling of breeze, shaft of light entering through a monumental arch, people engaged in their usual chores without being aware of their aesthetic significance or pictorial power, completes his vision of the old city," said Quddus. "Through his canvas, Zulfi has portrayed life of a person, who not only resides in the city but perceives its essence, aroma, atmosphere, and ambiance."

Lahore, he added, seen through the work of Zulfi is not merely an outside entity; it exists in one's imagination, fantasy memory and recollection.

Published in The Express Tribune, February 18th, 2017.
COMMENTS
Comments are moderated and generally will be posted if they are on-topic and not abusive.
For more information, please see our Comments FAQ