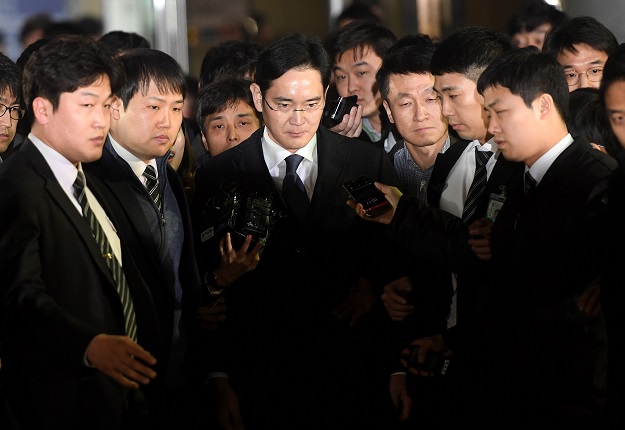 ---
SEOUL: For Jay Y Lee, the third-generation leader of South Korea's massive Samsung Group and scion of the country's wealthiest family, home is now a 6.56 square meter detention cell with a toilet in the corner behind a partition.

He has no shower, only a wash-stand. Bed is a mattress on the floor.

The 48-year-old Lee was arrested early on Friday for his alleged role in a corruption scandal that led to the impeachment of President Park Geun-hye, a decision that is being reviewed by the country's Constitutional Court..

He has denied any wrongdoing.

Samsung heir arrested in corruption probe

Lee is being held in a single cell and will not be allowed contact with other inmates, said an official at the Seoul Detention Centre, a facility on the outskirts of the city where arrested politicians and corporate chieftains are usually held, along with other detainees.

"This is a highly public case, and as you know many involved in the case were already here," the official told Reuters.

Prison officials don't want Lee discussing the case with others involved in the case, the official said, explaining why the Samsung scion was being held in a single cell. Also, there may be safety issues. "There are concerns about destroying evidence," the official said, adding that Lee was not being given special treatment.

Lee's lawyers declined to comment.

Lee, who is divorced with two children, has a net worth of $6.2 billion and ordinarily lives in a $4 million Seoul mansion. The Samsung Group he heads is the world's biggest manufacturer of smartphones, flat-screen televisions and memory chips, and Lee is accustomed to rubbing elbows with Silicon Valley titans such as Facebook's Mark Zuckerberg and Apple's Tim Cook.

How ties to an 'equestrian princess' landed Samsung at center of a scandal

An accomplished equestrian, Lee is also a lifetime member of the Royal and Ancient Golf Club of St Andrews in Scotland.

At the detention centre, Lee will be allowed visitors but they can speak only through a glass partition, for up to 30 minutes at a time. However, inmates are allowed unlimited meeting time with their lawyers.

He can exercise, but on his own, for 30 minutes a day.

ID check, physical

Before he entered his cell, prison officials subjected Lee to an identification check and physical examination, according to the detention centre official, who declined to be identified given the sensitivity of the matter. He showered and was issued an inmate uniform and boxes with toiletries and bedding.

Prosecutors have up to 10 days to indict Lee, although they can seek an extension. After indictment, a court would be required to make a ruling within three months.

Lee will be given simple US$1.26 meals, usually rice with side-dishes. Anything additional must be bought at the centre's commissary. Meals will be served on plastic trays slid through a small square window in the cell door. Lee is required to wash his own tray.

Samsung chief questioned behind closed doors in arrest warrant hearing

Inside the cell, he can watch TV between 8 am and 6 pm, but only a single channel with recorded programmes broadcast by the justice ministry.

Fellow inmates include Choi Soon-sil, a friend of President Park Geun-hye who is at the centre of the scandal and who Lee is accused of bribing, as well as the country's former culture minister and former presidential chief of staff.

The cell has a small study table to one side.

"Inmates can receive eyeglasses and books from outside but should buy other things at the commissary inside, such as snacks, coffee, instant noodles, detergent, razors, and towels," said a man surnamed Sohn who runs a private errand service for detainees at the centre and requested that his full name not be used due to the sensitivity of the matter.