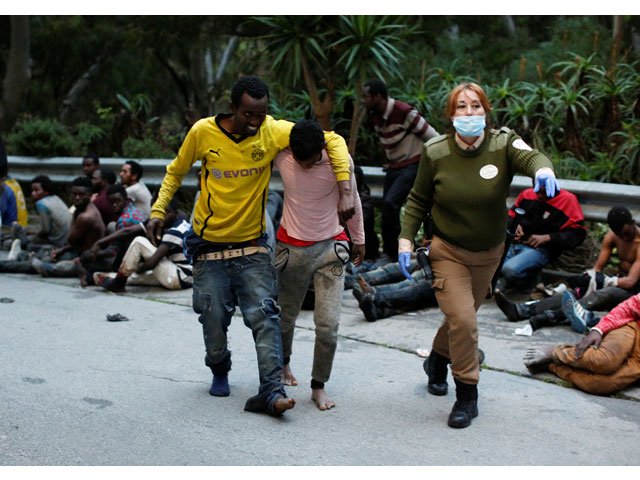 ---
MADRID:



Hundreds of migrants stormed into Spain's North African territory of Ceuta from Morocco early Friday, the emergency services and police said, adding that some were injured in the process.

"The Civil Guard at Ceuta estimates that 500 people could have succeeded in entering the town," the emergency services said on Twitter.

The Civil Guard, or paramilitary police, meanwhile told AFP that "several hundreds" crossed over and many of them were hurt, as were members of the security forces.




The last such attempt took place on New Year's Day when more than 1,000 migrants tried to jump a high double fence between Morocco and Ceuta in a violent assault that saw one officer lose an eye.

Trump, Trudeau grapple with differences on refugees, trade

The emergency services said on Twitter that the Spanish Red Cross extended assistance to some 400 people.

Ceuta and Melilla, another Spanish territory in North Africa, have the European Union's only land borders with Africa.

They are entry points for African migrants seeking a better life in Europe, who get there by climbing the border fence, swimming along the coast or by hiding in vehicles.

The enclave has been ringed by a double wire fence that is eight kilometres (five miles) long. The six-metre (20-foot) high fence also has rolls of barbed wire.
COMMENTS (1)
Comments are moderated and generally will be posted if they are on-topic and not abusive.
For more information, please see our Comments FAQ