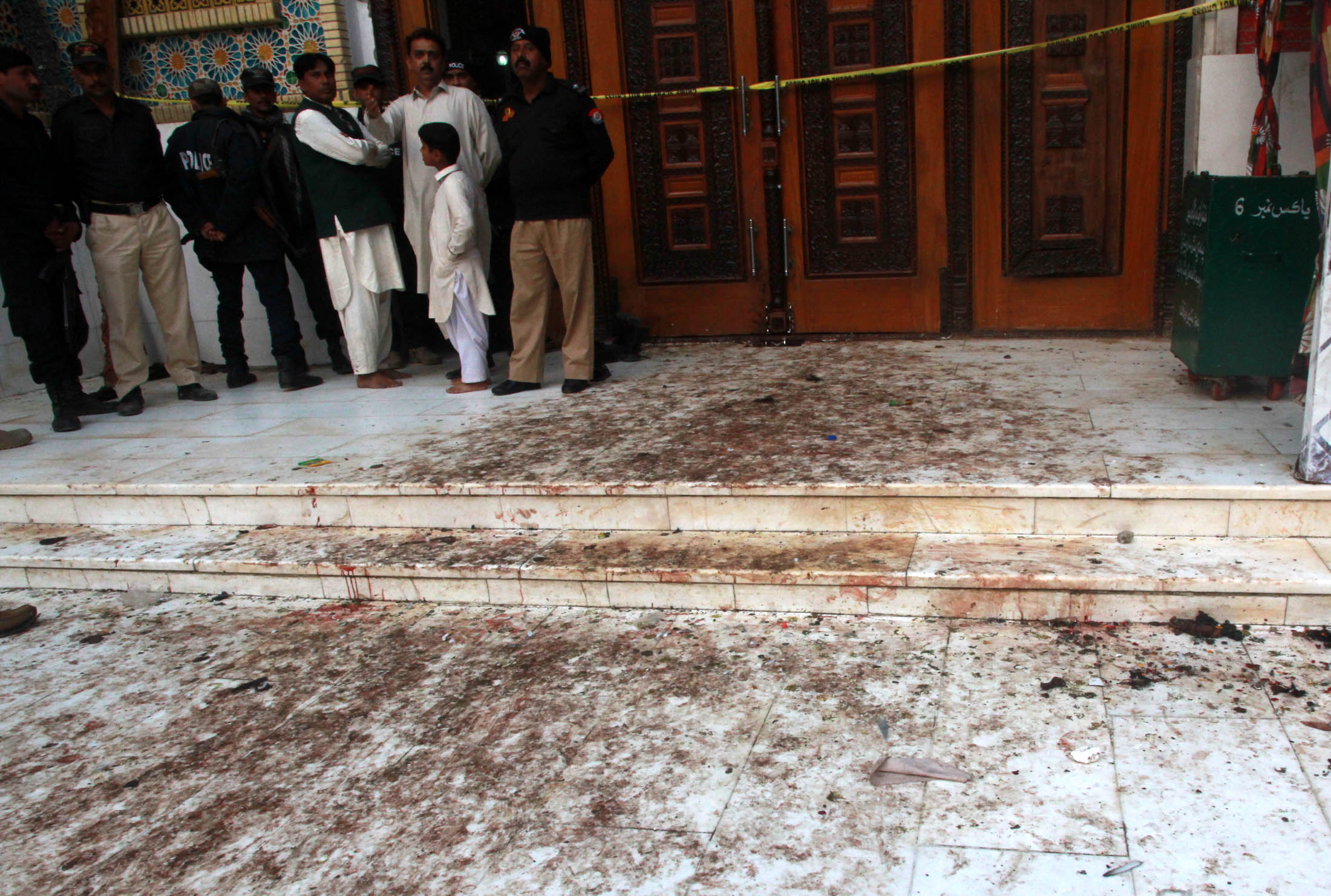 ---
SEHWAN: Undeterred after a deadly blast that claimed 88 lives, followers of revered Sufi saint Lal Shahbaz Qalandar performed dhamaal as usual after evening prayers.

The death toll from the Islamic State attack that ripped through a spiritual gathering at the shrine rose to 88 on Friday, Secretary Health Dr Fazullah Pechuho said.

The famous Sufi shrine of Lal Shahbaz Qalandar was closed due to security reasons following the deadly blast on Thursday.

The white marble floor at Lal Shahbaz Qalandar was still marked by blood on Friday, and a pile of abandoned shoes and slippers was heaped in the courtyard, many of them belonging to victims.

Outside, protesters shouted slogans at police, who they said had failed to protect the shrine. "I wish I could have been here and died in the blast last night," a devastated Ali Hussain told Reuters, sitting on the floor of the shrine.

He said locals had asked for better security after a separate bombing this week had killed 13 people in Lahore, but added, "No one bothered to secure this place".

Anwer Ali, 25, rushed to the shrine after he heard the explosion, and described seeing dead bodies and chaos as people fled the scene. "There were threats to the shrine. The Taliban had warned that they will attack here, but authorities didn't take it seriously," Ali said.

At least 80 people were killed and over 200 injured when a suicide bomber struck in the midst of devotees at the shrine of Lal Shahbaz Qalandar in Sehwan town, some 200 kilometres northeast of Karachi. The deadly attack was reminiscent of a near-identical bombing at Dargah Shah Noorani, in Khuzdar district of Balochistan, in November last year.

72 dead as suicide bomber strikes inside Lal Shahbaz Qalandar shrine in Sehwan

Police resort to aerial firing to disperse protesters in Sehwan

Earlier today, police resorted to aerial firing to disperse the mourners in Sehwan who are protesting the blast at the shrine of Lal Shahbaz Qalandar on Thursday that killed at least 80 people.

The angry protesters have also set on fire a police van in the vicinity after the officials denied them entry into the Lal's shrine.