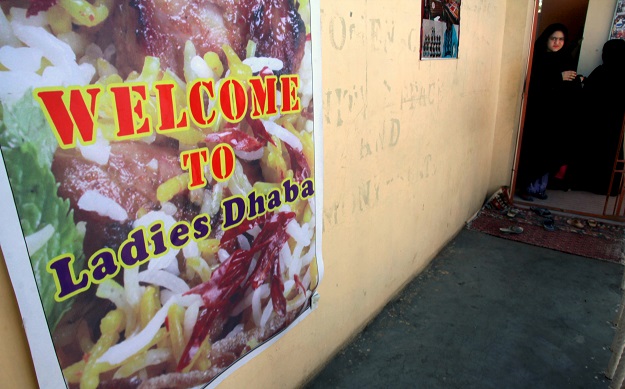 ---
KARACHI: Walking into the narrow street of Jhaskani Muhalla near Grex stop on Hawke's Bay Road, you make your way through by jumping over overflowing gutters and puddles of sewage water in front of houses toppling over one another until you finally reach your destination; the Ladies Dhaba.

Adorned in clay lamps and other handicrafts hanging from the thatched roof, the small dhaba has been affectionately furnished complete with takhts topped with red-coloured carpets and pillows, and board-games including carrom and ludo.

Here, women from all over the area come together to sit, relax, talk and play games just as their male counterparts do in the same locality at a nearby pathan ka dhaba.

#GirlsAtDhabas aims to make dhabas run by women a reality

The dhaba - which opened in June 2016 with the help of the Karachi Youth Initiative (KYI) and the Women Development Foundation Pakistan - is not just for leisure and amusement, in fact, the small establishment prides itself as a vocational training centre too. With a staff of sixteen members, including tutors and helpers, the Ladies Dhaba offers three courses - stitching, beautician and computer courses - to women with low or no educational background.

The humble premises also boasts a library, with books related to science, religion and history in both English and Urdu, and a community hall.




"It is totally free of cost, weather it is the course fee or playing games in the free space," said the project manager, Areeba Wajid.

While KYI helped initially with its launch, the project is now entirely independent.

"The expenses of the dhaba for one month extends to more than 0.2 million which includes, electricity, water tanker, gas internet and rent bills," said Wajid.




KYI also helped set up another ladies dhaba in Baldia town which also works for women empowerment in the area. The house, in which the dhaba has been set up, was previously used as a community center where there was a dispensary too.

"We have been working to upgrade this community for over 12 years," the director of Ladies Dhaba, Sabiha Shah told the Express Tribune.




Having worked on maternal health and family planning, Shah said that the need of non-formal education and skill training seemed important, adding that they are soon to start a tiffin service from the dhaba so the women could expand their work base.

Kulsoom Rehman Baksh - who handles the food department at the dhaba - sells samosas, rolls, biryani, chat and fries at reasonable rates, earning between Rs100-Rs150 daily at the dhaba. Ordinarily, Baksh's family would not have allowed her to set up her own business, but because the dhaba promotes a family set-up where women come to spend time playing games and buying food, she was permitted. Baksh says that doing her business at the dhaba, as compared to anywhere outside, makes her feel secure.




"I come here on a daily basis to spend quality time with other women of the locality," said one of the females covering her face with her veil, playing ludo with her friend.

Amna Yawar, who completed her intermediate and is enrolled in the beautician's course at the dhaba, feels that she would not have had the chance to learn if the dhaba was not here.

"We have to go to Karimabad or Nazimabad to learn, which is time consuming," she said.

Another beautician student, Neetu Maheshwari who was not allowed to leave her area was permitted by her brother and father to enroll in the beautician's course because it is at walking distance from her house.

Women empowerment: CM meets UAE businesswomen

Samina Bernard, who lives in Father Colony expressed that such spaces are the need of the hour for under developed areas. Before the ladies dhaba was founded, the women of the locality yearned for some form of entertainment. Many even fondled with the idea of visiting the men's dhaba to have a peek into that world. Luckily, there is no such need any more.

"We also wanted to go out and sit somewhere on the roadside, have tea, talk to friends and play games like men do, but we could not until the women found the ladies dhaba to substitute their dream of going to the men's dhaba," she said.

The women at the dhaba are also encouraged to spend their time stitching and make clay pots which are also on sale at the dhaba - the income from this helps them generate money for themselves and keep the dhaba alive.
COMMENTS (1)
Comments are moderated and generally will be posted if they are on-topic and not abusive.
For more information, please see our Comments FAQ