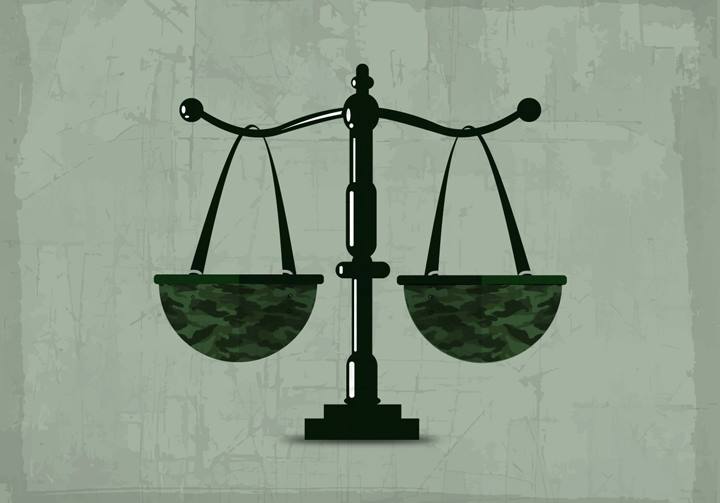 ---
LAHORE: Responding to a petition filed against a military court ruling, an army official on Thursday told the Lahore High Court (LHC) that the decision of an Army Court of Appeal could not be challenged before any court of law.

The Deputy Assistant Judge Advocate General (DAJAG) of 4 Corps headquarters submitted this through a deputy attorney general before a LHC divisional bench, which was reviewing a petition of a former havaldar Niaz Ahmad against his death sentence by the army court.

Niaz Ahmad and a co-accused, Majid Wazir, had killed their colleague, Abdul Rehman, while on duty at the Kortana post in Punjab's Sheikhupura district.

After much ado: Dar wins Fazl's backing for military courts

In a three-page reply, the DAJAG said the accused had availed all remedies available to him under the Pakistan Army Act and his final appeal was dismissed by the Army Court of Appeal.

It said under section 133-B of the Pakistan Army Act, "the decision of the Army Court of Appeals cannot be called into question before any court or other authority whatsoever." It said the petition was liable to be rejected for being not maintainable.

The reply said proceedings of Field General Court Martial (FGCM) were neither mala fide, nor without jurisdiction. "High courts in different cases have upheld that the bar of jurisdiction in cases of persons of armed forces is absolute," it added.

The petitioner's counsel, Rana Naveed Ashiq, submitted that his client and the co-accused Majid Wazir, were tried under section 59 of the Pakistan Army Act. The court sentenced Ahmad to death and gave a life term to the co-accused on July 1, 2015.

Military courts to get permanent status

He said his sentence was confirmed by a commanding officer on August 20, 2015, adding that he had filed an appeal before the Judge Advocate General, who rejected it on June 21, 2016.

The petitioner claimed that he did not commit the murder. He said he was severely tortured during investigation and he was compelled to make a confessional statement.

He requested the court to order his acquittal by declaring orders of his conviction as illegal and unlawful. After going through the reply, the LHC bench adjourned the hearing for the petitioner's rejoinder to the reply.

Published in The Express Tribune, February 17th, 2017.