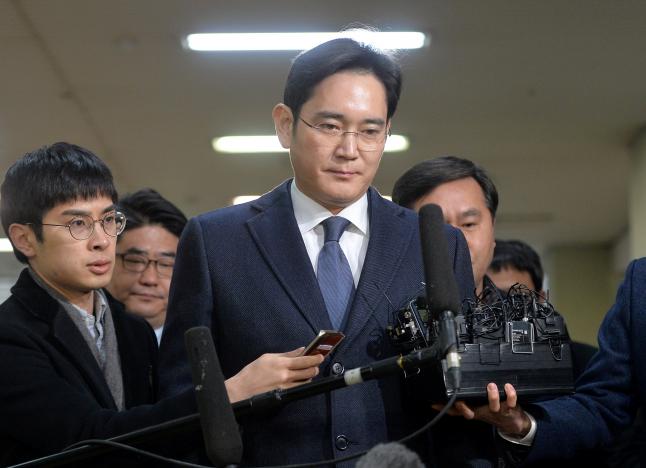 ---
SEOUL: A South Korean judge questioned Samsung Group leader Jay Y. Lee and another executive behind closed doors on Thursday to decide whether they should be arrested over their roles in a corruption scandal that has engulfed President Park Geun-hye.

Dozens of protesters surrounded by riot police met Lee, 48, who was wearing a dark coat and navy tie as he arrived at the Seoul Central District Court to attend the hearing.

South Korea's special prosecutor's office has focused its investigations on Samsung Group's relationship with Park, who was impeached by parliament in December and has been stripped of her powers while the Constitutional Court decides whether to uphold her impeachment.

Prosecutors accuse Lee in his capacity as the head of South Korea's largest conglomerate of pledging 43 billion won ($37.7 million) to a business and organizations backed by Park's friend, Choi Soon-sil, in exchange for support of a 2015 merger of two Samsung companies.

Samsung chief appears for second round of questions in graft probe

That funding includes Samsung's sponsorship of the equestrian career of Choi's daughter, who is in detention in Denmark after being sought by South Korean authorities.

Park, Lee, Choi and Samsung Group all deny any wrongdoing.

Prosecutors have also sought an arrest warrant for Samsung Electronics Co Ltd president Park Sang-jin, who also heads the Korea Equestrian Federation and arrived for the hearing after Lee.

Neither man answered questions from reporters.

It is the second time in a month the special prosecutor's office has sought Lee's arrest.

The same Seoul court rejected its request for a warrant in January but a spokesman for the special prosecutor's office said on Wednesday it had since expanded the charges against Lee to include hiding the proceeds of a criminal act, as well as bribery, embezzlement, hiding assets overseas and perjury.

Two groups of protesters - one calling for Lee's arrest and another carrying South Korean flags and demanding that the warrant request be dismissed - stood outside the courthouse in southern Seoul.

South Korea prosecutor delays decision on arrest warrant of Samsung's Lee

After the hearing concludes, Lee and Park Sang-jin were expected to await the court's decision in a detention center, a prosecution spokesman said. The decision may come late on Thursday or early Friday, based on previous instances.

On Wednesday, Samsung Group repeated an earlier denial on its official Twitter account: "Samsung has absolutely never bribed the president seeking something in return or sought illicit favors."

"We will do our best for the truth to be revealed in court," it said.

The corruption scandal erupted late last year and has engulfed South Korea's political and business elite. Park, who remains in the presidential Blue House, could become the first democratically elected leader in South Korea to leave office in disgrace.

If Lee is arrested it could also deal a serious blow to Samsung, the world's biggest maker of smartphones, memory chips and flat-screen televisions, potentially hampering strategic decision-making such as new investments and acquisitions.
COMMENTS
Comments are moderated and generally will be posted if they are on-topic and not abusive.
For more information, please see our Comments FAQ