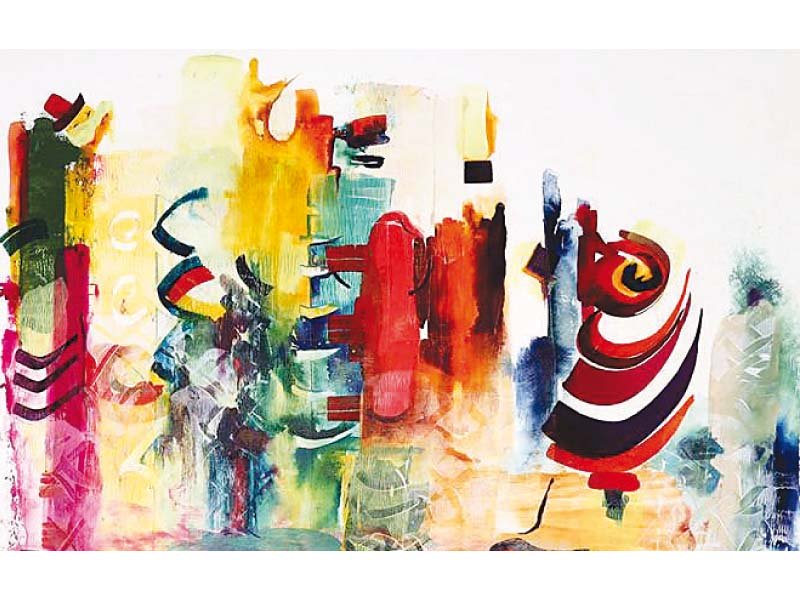 ---
ISLAMABAD: Before he was known for his expansive murals which talked about the reality of life and explored the past, present and the future of mankind, Sadequain shot to fame for his calligraphy.

To commemorate his 30th death anniversary, Gallery 6 in Islamabad is paying tribute to the legendary artist through an art exhibition featuring what is an intriguing and eclectic mix of calligraphy and abstract art. The exhibition opens today (Thursday February 16).

The exhibition follows from a similar homage in 2015, when the gallery organised an exhibition titled "Sadequain aur Mein" where artists related their work with Sadequain's paintings.

This year, artist Fariya Zaeem has painted some of Sadequain's verses in her abstract paintings in an exhibition titled "Naqqash se kuch bol raha hai qartas", a line taken from one of Sadequain's quatrain.

Zaeem started painting young, using oil and water colours to trace out still life and nature. She completed her higher studies in Communication Design from the Indus Valley School of Art and Architecture in 1996. However, she went on to spend over a decade with advertising agencies before turning to the banking sector.

Calling her work contemporary expressionism, Zaeem has tried to forge a visual language of "lyrical abstraction" in her work.

However, when portraying Sadequain's quatrains, she departs from his sharp, well defined lines characteristic of his calligraphy. Rather, Zaeem takes a more abstract approach, fusing calligraphic strokes with broad abstract strokes of colour – another departure from Sadequain's well-formed figures.




The colour is another way in which she has differentiated herself. Contrary to the muted and more earthen pallet of colours used by Sadequain, Zaeem uses bold and brighter reds, oranges and even greens. The impact of such a choice is not immediately evident. What Sadequain encased in subtlety and reflection, are more openly showcased by Zaeem in her water colour and acrylic works.

Zaeem has also tried to experiment in the medium, placing wet-on-wet, dry-on-wet, salt technique, shrink-wrap, bubble-wrap, dry flat, round mixed with bleeding effects pitching water colours against acrylic.

By merging of two opposites, Zaeem believes, she has brought forward an interesting dialogue of through the medium itself. The play of transparency and opaqueness, dark and light references the ying and yang – balance of life -- to which Sadequain too often alluded to.

Moreover, Zaeem has explored expressions in diptych and triptych templates too.

"I have always observed a streak of madness in Sadequain's work, a spirit of a true Bohemian in the world of words and images," Zaeem said.

Talking about her work, she said that she was overwhelmed but curious too.

Dr Arjumand Faisel, Gallery 6's curator said that the work conveys a sense of larger spiritual outlook.

"Her work is more about a certain temperament, a desire to communicate concepts, thoughts, ideas, and emotions abstractly, beyond merely exploring art principles of composition, tone, value, line, hue, texture, etc."

The exhibition will be inaugurated today and will continue daily, including Sundays, till Febraury 23.

Published in The Express Tribune, February 16th, 2017.