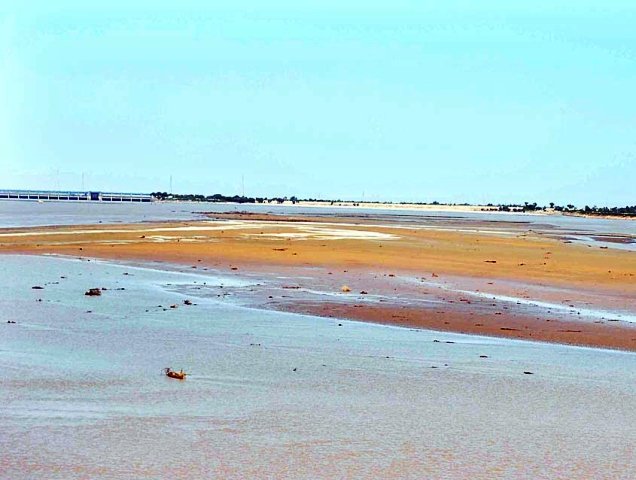 ---
SUKKUR: The mighty River Indus gushes down from one end of the country to another but there are no rescue services to deal with accidents along its path.

The absence of such rescue services became apparent on February 10 when a boat carrying around 35 passengers capsized at Muhabbat Pir Patan, some eight kilometres away from Dokri in Larkana district. Around 13 people went missing and only 10 bodies have been fished out so far. The search for the remaining bodies continues to this day.

Larkana boat capsize: Five more bodies fished out from Indus

The river, known as the lifeline of Pakistan, starts its long journey from Tibet in China. It passes through Kashmir, parts of Khyber-Pakhtunkhwa and cuts through Punjab to enter Sindh at Guddu Barrage. It flows down to Sukkur and Kotri barrages before it meets the ocean in Badin and Thatta. This junction is commonly referred to as the meeting of two oceans as River Indus is considered no less than an ocean when it flows at peak. According to irrigation officials, its length from Guddu Barrage to the delta in Thatta and Badin is around 850 kilometres.

The river becomes riskier at points closer to the cities as many people picnic along its shore. Lab-e-Mehran in Sukkur and alManzar in Jamshoro are two such spots where families with children are seen in large numbers, especially in the summer when the river is at its peak.

This is also the time when several accidents take place as many people go swimming in the river as well. In all such accidents, residents have to rely on local divers and fishermen, known as mallahs, or they seek the help of Pakistan Navy. There is no official rescue service available.

"Many people drown every year and our mallahs often fish out bodies, sometimes free of charge and sometimes they are paid," explained a diver from Bachal Shah Miani neighbourhood, Muhammad Alam Mallah. "If we start looking for the body within an hour or so, then it is easier to fish it out. But if the process is delayed, there are chances of the body washing away downstream or getting entangled in the wild bushes in the river or getting buried under the heavy silt."

Pakistan Navy team saves crew of sinking boat  

Alam explained that, in most cases, the body will float to the surface after a couple of days. "I have seen decomposed and shredded bodies floating in the river," he shared.

According to him, the local fishermen are good swimmers but they lack proper equipment to remain under water for a long time. The Pakistan Navy divers are well equipped, he added.

For his part, Sukkur commissioner Muhammad Abbas Baloch admitted that there is no official rescue agency to cope with emergencies, such as the boat that capsized in Larkana. "I have called the meeting of Sukkur and Larkana district administrations divisions to discuss how we can resolve this," he said.

More than two years ago, the then Sukkur deputy commissioner Sumair Syed had established a rescue agency with 10 divers but the project proved short-lived as the government failed to allocated funds for it.

Myths of Indus

Meanwhile, some local elders find other explanations for accidents on the river. "Daryah Badshah [king river] needs sacrifices to keep flowing like this and, therefore, every year dozens of people drown," said fishermen Yousuf Mirani, who appeared to be in his late 70s.

"I have seen rivers in Punjab but they give the look of a drain as compared to the Sindhu [River Indus]," he said, boasting how the Indus is more than 10km wide at some places and deeper than 100 feet.

Published in The Express Tribune, February 16th, 2017.
COMMENTS
Comments are moderated and generally will be posted if they are on-topic and not abusive.
For more information, please see our Comments FAQ