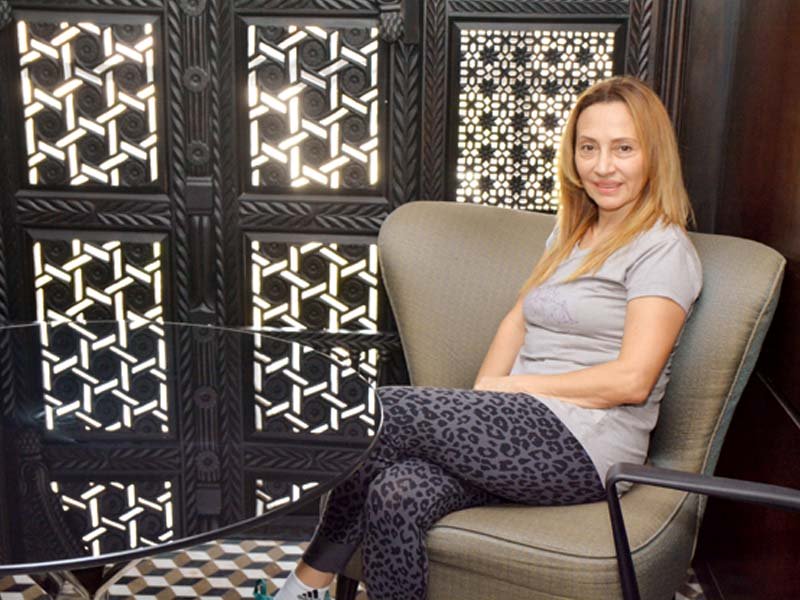 ---
The owner and head trainer at the popular and trendy fitness spot, Studio X, walks us through her favourite space — the state-of-the-art gym itself!

On a sunny morning in Karachi, we make our way to Studio X, a gym that recently opened with much anticipation and accolade. The grey stonewalls, and the subtle aroma from the incense is calming, a contrast from the hustle and bustle we felt right outside the studio doors. We walk up to the first floor.




Large windows, exhibiting the city's majestic panoramic view leave us in awe. This also gives the space a contemporary feel. The large windows let in ample sunlight, which instantly brightens up the space. Our charming hostess, Jeanette Faruque walks in and seats us in a cosy, quaint lounge behind the studio. This space is dimly lit, and is enclosed with, dark wood, finely cut-out, extendable doors. This is a quiet corner, one that makes us forget that we are in a high-energy gym. Settled in, we ask Faruque, why she picked this space as her favourite: "This is where I spend most of my time, and this is where I feel happy as an individual, a human being, and as an achiever," she says.




The studio is furnished with great attention to detail, each floor has it's own vibe. The grey stone from the reception is not present elsewhere. Instead, the large studio rooms have pristine, white walls, large, floor-to-ceiling windows, and colour incorporated through the savvy gym equipment. The bathrooms and massage room are reflective of traditional, Turkish aesthetics, the latter adorned with an intricately detailed, teal wall mount. Faruque's private office on the other hand, is reminiscent of a quaint, quirky coffee shop abroad, with understated black-and-white furniture, and a large chalkboard she uses as her to-do list. This style is also incorporated in the trendy Juice Bar inside the gym. What is remarkable about the studio however, is how these ranging styles complement each other, and work together to create a truly spectacular corner. "My architect was Najmi-Bilgrami. We told them exactly what we wanted, and they put it all together. I wanted it to be different, and not like typical gyms. I wanted people to feel comfortable, happy, and at home. The architecture firm also did the entire interior, and they're doing my house now too! I'm really happy with what they've done, I really identify with it. Initially, I used to tell them this is too fancy for me, I just want it to be simple, beautiful and classic. In the end, they gave me exactly that," she says contently.

Though the gym is a commercial structure, occupied by many, it is actually of great sentimental value to Faruque. "The first class I conducted here, it gave me a matchless feeling of satisfaction and achievement. The reason why I opened this place was because my classes were really packed and my clients were unhappy due to the token system we had to put in place because of it. When they came here for the first time, their joy made me feel like I've achieved so much,"she smiles.




Faruque's daughter, Fuzzy Faruque, is also a co-owner and instructor at Studio X, and as would be for any mother, working with her daughter has been one of the highlights of building Studio X. "My daughter was my inspiration to open a bigger place. I've always had a problem with trainers, as it's difficult to retain them because they get trained and want open their own gym, but Fuzzy helped me a lot — young blood is always able to bring a lot to a new place. More than anything though, there's nothing like working with your daughter. I'd like her to takeover one day," she says proudly.

As our conversation comes to an end, we congratulate Faruque on building her dream studio, and ask if she would change anything about it. She laughingly answers: "Well…the only thing is that I would like an even bigger place — the classes are still packed!"
COMMENTS
Comments are moderated and generally will be posted if they are on-topic and not abusive.
For more information, please see our Comments FAQ