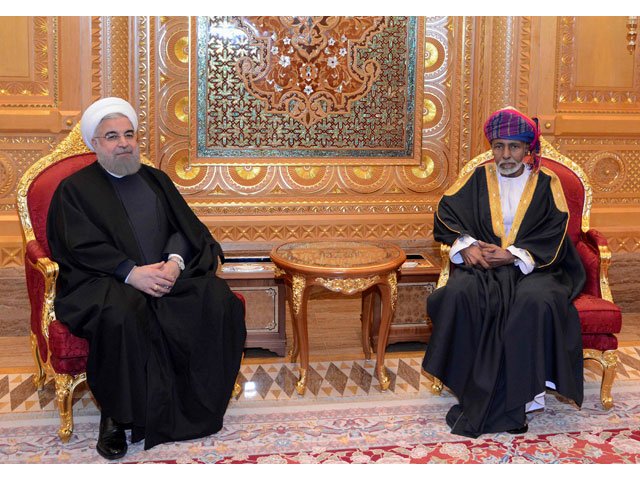 ---
MUSCAT: Iranian President Hassan Rouhani visited Oman on Wednesday as part of a regional tour to improve relations with Gulf neighbours that have been strained by the conflicts in Syria and Yemen.

Before leaving Tehran, Rouhani expressed support for Kuwait-led efforts to "resolve misunderstandings and boost relations" with Gulf countries, Iran's official news agency IRNA reported.

"In this trip, there will be discussions about the region, the situation in Iraq, Syria and in particular in Yemen," he said before flying to Muscat where he met Sultan Qaboos.

'Better be careful' about words, Trump warns Rouhani

Kuwait was the next scheduled stop on Rouhani's short tour, which does not include regional kingpin Saudi Arabia.

Kuwaiti Foreign Minister Sheikh Sabah Khaled Al-Sabah visited Tehran last month, calling for a "normalisation of ties and opening dialogue".

Iran has had no diplomatic relations with Saudi Arabia since January 2016, when demonstrators stormed the kingdom's missions in Tehran and Mashhad in protest at the execution of a Saudi Shia Muslim cleric.

Ties were already strained between the region's leading Shia and Sunni powers, which have taken opposing sides in the conflicts in Syria and Yemen.

Iran's Rouhani warns those using 'threatening language'

Oman, which has a significant Shia minority, has historically had good ties with Iran, with which it shares control of the Strait of Hormuz.

Oman is the only one of the six Gulf Arab states not taking part in the Saudi-led military intervention against Shia rebels in Yemen.
COMMENTS
Comments are moderated and generally will be posted if they are on-topic and not abusive.
For more information, please see our Comments FAQ