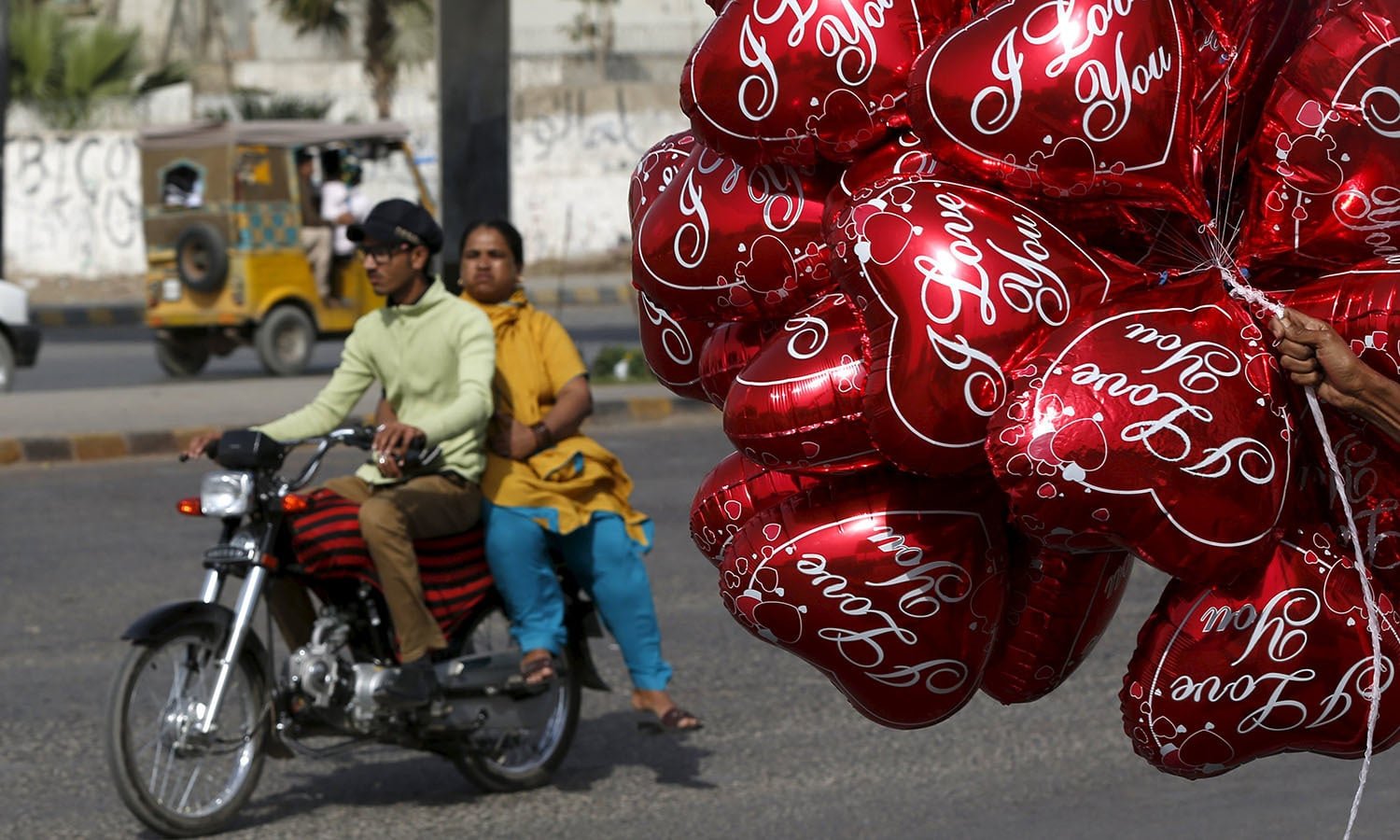 ---
LAHORE: A positive vibration may be going through conservative elements of the country as a day after the Islamabad High Court banned Valentine's Day, a man has been arrested in Lahore for selling sex toys.

People in the bustling Chauburji area were 'bemused' to see the man waving about his wares in broad daylight.

In his own words, Farmanul Haq, 25, a BCom student at a private college, had allegedly been in the business for "a while" and was "earning handsome profits", far more than he would in "any other business".

Sex toys 'safer' than kids toys

On Tuesday – which was also Valentine's Day – Haq was standing in the parking space of a private bank in the market area with his wares visible to passersby when some citizens noticed and called the police.

"He had come here to sell one toy to a male customer for which he had was demanding Rs4,000 … these were his own words when the police caught him red-handed," a source said.

In the complainant, SI Muhammad Asif submitted that Haq has been living in the Samanabad area and selling sex toys for around six months.

He said the suspect had told them that his supplier was based in Karachi and that he has no local supply chain in Lahore.

Haq also told the police that he sold batteries and other necessary accessories required for "smooth operation" of the toys.

Asif said the FIR has additional significance because it is the first case regarding the sale of such products that has been registered in Lahore. He added that the office of the Operations DIG had also contacted him about the FIR and he had informed them that it was registered due to violations of sections 292-C and 293 of the Pakistan Penal Code (PPC).

The punishment for offences under Section 292-C (sale of obscene material) is a jail term of three months, while Section 293 (sale of obscene objects to a young person) carries a prison sentence of up to six months.

The complainant also admitted to being part of a network of other vendors in the city, Asif said, adding that investigations are being carried out in this regard and they will catch anyone involved in "this obscene business".

Police start proceedings against 'touchy' cops

The investigation officer (IO) of the case told The Express Tribune that the suspect had been produced before a judicial magistrate, where the judge sent him to jail on judicial remand.

When asked why the young student may have gotten involved in the trade of contraband, the IO said that the suspect claimed that it was the first time he had done anything like this and tried to get out with an apology.

He said that police recovered 31 toys, two of which the accused was holding at the time of the arrest, while the rest were in a backpack hanging over his shoulder. The items were in multiple colours and 24 batteries were also recovered from the suspect, the IO added.

Haq told The Express Tribune that he had gotten into the trade through social media and that it was his first job. He said he gets orders on a cell phone and would then deliver the items to his customers.

When asked if there was any tie to Valentine's Day, he said there was not, explaining he was just there to make a delivery to a customer who had placed an order much earlier.
COMMENTS (32)
Comments are moderated and generally will be posted if they are on-topic and not abusive.
For more information, please see our Comments FAQ