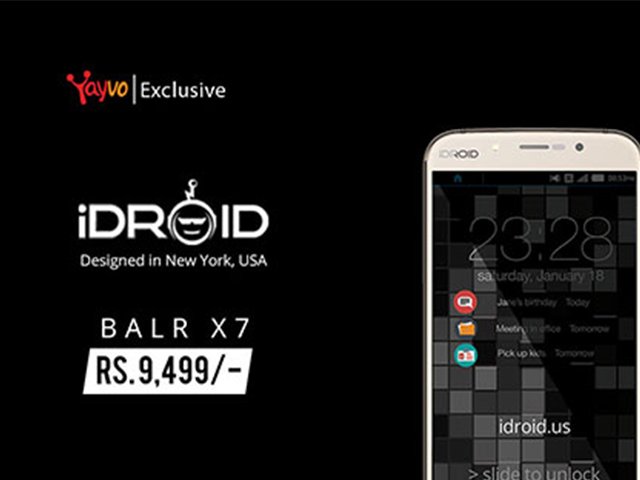 ---
iDroid USA Technologies is the latest addition to the country's growing smartphone market. At Rs9,499, the BALR X7 offers a stylish device with a powerful quad core 1.3GHz processor along with 8MP dual-flash back camera and a 5MP selfie camera with LED flash. And if you live in Karachi, Lahore or Islamabad, the phone will be delivered to your doorstep in just two hours.

We got our hands on the BALR X7 and here is what we thought:

What's in the box?

Instead of going with the conventional rectangular box, the iDroid comes with a flat square box which can be lifted like a gift box.

You will find a two-panel box underneath the lid with BALR X7 resting on one side and a covered panel on the other side. While the covered panel contains a pair of earphones, a USB cable and a power adapter, there's a small surprise hidden under the device compartment. Taking into consideration how often users end up scratching their smartphones, the BALR X7, comes with a screen protector and a presentable plastic back cover.


It's all about looks

The first thing we noticed were the phone's looks. We got our iDroid BALR X7 in black, but the phone is also available in gold.


Design wise, the BALR X7 is one of the most elegant looking devices in this price range. The phone, which boasts a 5.5 inch HD display, has its front camera placed on the top right corner of the device, while the back cover has been given a smooth matte black finish. The phone's well-defined power and volume buttons are found on the right side of the phone, while the dual iDroid Beast speakers are hidden behind the zinc-alloy grill at the bottom of the phone. The zinc-alloy mid-frame gives the phone its premium look.

Specs and performance

The 5.5-inch BALR X7 features a quad Core 1.3GHz processor which runs on a customised version of Android 5.1 Lollipop. The smartphone comes with an internal storage of 16GB, which is further expandable up to 32GB via a micro SD card. The device does not lag even with multiple applications running in the background despite running on 1GB RAM.




The 8MP back camera with dual LED flash includes features, such as HDR+ mode, zero shutter delay, anti-shake, voice capture and auto-scene detection. The 5MP front selfie camera also has LED flash with an additional feature of voice capture.




Furthermore, the smartphone packs a 2800mAh battery, which is enough to get you through the day.

Verdict

All in all, BALR X7 is a stunning looking phone with decent specs along with 8MP camera. Considering that it costs only Rs9,499, you can't bargain for more in this price range.

On a scale of one (being the lowest) to ten (being the highest), here is how we rate the phone and its features:

Camera:


Design and build:
User interface:
Price range: