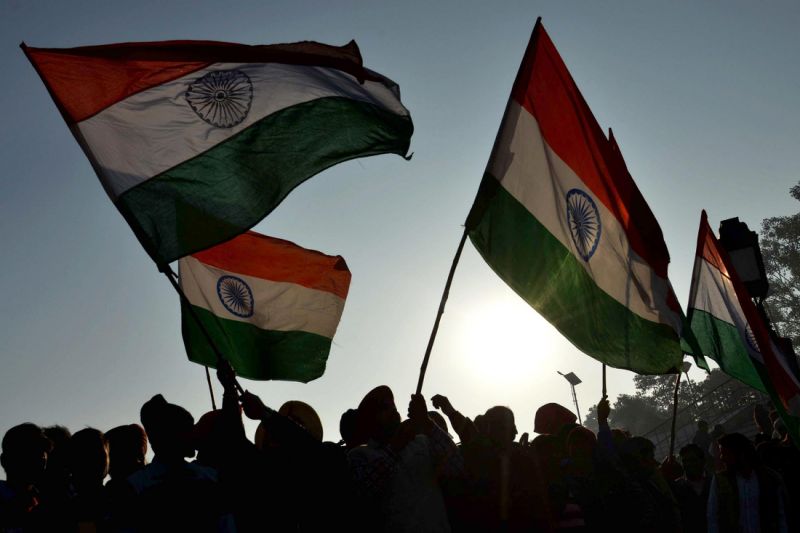 ---
AHMEDABAD:
Half a million Indians have set a new world record by performing a mass rendition of their national anthem, as patriotic sentiment rises under a nationalist government.
The "Jana Gana Mana" anthem was sung by 509,261 people in Gujarat, the home state of Hindu nationalist Prime Minister Narendra Modi, at the opening of a Hindu temple, said Guinness World Records. "The event attracted close to 1 million people according to the auditors, but only the above number could be accommodated in the record attempt area," the world record-keeper said on its website.
Minorities in India facing discrimination, says US Commission on International Religious Freedom
The feat was accomplished in late January but only validated recently by Guinness World Records. It smashes the previous record of roughly 254,500 set in the Bangladesh capital Dhaka in 2014.
"We feel very proud to have achieved this record, which is nearly double that of the previous record," Paresh Gajera, chairman of the organising committee overseeing the stunt in the western state, told AFP.
The patriotic effort comes amid a fiery debate in India over exploitation of the anthem, and concerns about overt displays of nationalism under Modi's right-wing administration.
Carcasses pile up as India's Dalits protest prejudice
The Supreme Court ruled in November that cinemas must play the national anthem before screening movies and audiences should stand for it, drawing angry accusations of an assault on civil liberties.
There have been reports of cinemagoers being assaulted for refusing to stand, while others were arrested for failing to obey the ruling. Some liberals say freedom of speech is being stifled by Modi's Bharatiya Janata Party, which came to power in 2014.
COMMENTS
Comments are moderated and generally will be posted if they are on-topic and not abusive.
For more information, please see our Comments FAQ