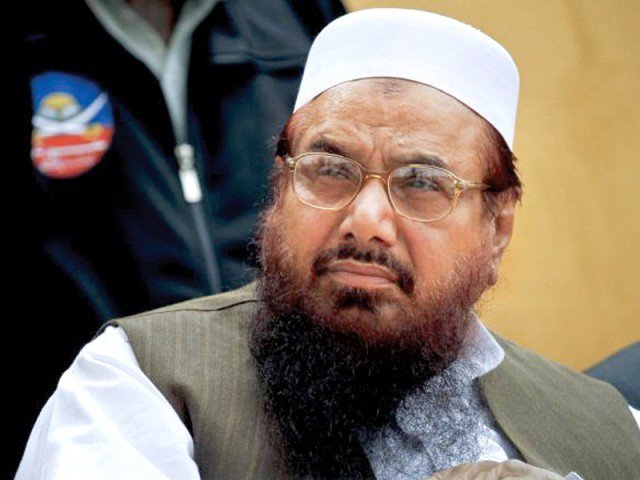 ---
LAHORE: The Jamaatud Dawa (JuD) requested on Wednesday that the Interior Ministry remove its chief Hafiz Muhammad Saeed – who is currently under house arrest in Lahore – and 37 other party activists from the Exit Control List, claiming that the party is not involved in any terrorist activity in the country.

The application, which was moved through party counsel AK Dogar, refers to an Interior Ministry notification issued on January 30, wherein the JuD chief and four of his aides were placed under house arrest for one month.

In his letter, the JuD counsel submitted that on instructions from 38 of his client's staffers, he is requesting that the ministry withdraws its decision to put their names on the Exit Control List. Dogar claims that the party had never been involved in any kind of terrorist activities inside Pakistan and that no terror-related incident or destruction of property was ever linked to the organisation.

Protests expected after Hafiz Saeed placed under house arrest

"The JuD is an organisation which is dedicated to the welfare of citizens of the country. it has set up 142 schools and four universities in the country and Falah-e-Insaniat Foundation (FIF) is sufficient proof to this effect," it said.

Claiming that the federal and provincial governments never produced any evidence of Saeed's involvement in any terror-related offence, the counsel said he will submit documents to prove the innocence of his clients.

The January 30 Interior Ministry notification placed the JuD and FIF on the watch list and put on the second schedule under Section 11-EEE(1) of the Anti-Terrorism Act 1997. A subsequent handout issued by the Punjab government said, "In the light of Section 11-EEE(1) of the Anti Terrorism Act, the Punjab government has taken organisational office-bearers of the aforementioned organisations playing an active role including Hafiz Muhammad Saeed (Lahore), Abdullah Ubaid (Faisalabad), Zafar Iqbal (Markaz Tayyaba Muridke), Abdul Rehman Abid (Markaz Tayyaba Muridke) and Kashif Niazi of Multan into protective custody."

The Interior Ministry in its order stated that FIF and JuD had been taking steps causing harm to peace and security, and involved in activities that violate United Nations Security Council (UNSC) Resolution 1267.

Hafiz Saeed placed under house arrest

Saeed's detention came following Interior Minister Chaudhry Nisar Ali Khan's remarks that the government was taking steps to fulfil its international obligations regarding JuD.

India accuses the JuD chief of masterminding the 2008 Mumbai attacks, which brought Islamabad and New Delhi to the brink of a war. At least 166 people including tourists were killed by 10 armed men who went on a rampage that included attacks on two luxury hotels, a Jewish centre, and a train station.

Saeed has repeatedly denied ordering the Mumbai attacks and has distanced himself from the Lashkar-e-Taiba (LeT), a banned militant group in Pakistan that India blames for the incident. Saeed was put under house arrest soon after the Mumbai attacks but was released on court orders in June 2009.