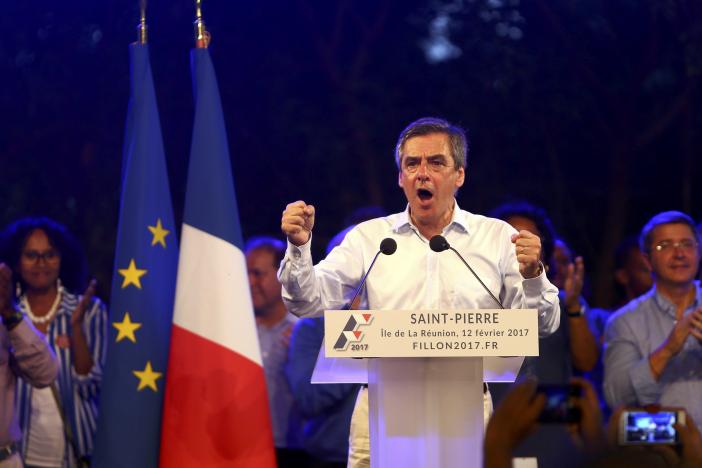 ---
PARIS: France's scandal-hit presidential candidate Francois Fillon came under renewed attack from within his conservative camp on Wednesday ahead of planned talks with former president Nicolas Sarkozy that Fillon hopes will restore party unity.

Rebel conservative lawmaker Georges Fenech said his The Republicans party faced defeat in the April-May election unless it ditched Fillon.

Fenech has been one of the strongest anti-Fillon voices since an official inquiry into fake work allegations knocked the ex-prime minister's campaign off track three weeks ago.

French voters still want scandal-hit Fillon to step down from presidential race-poll

"I'd love to be wrong but I can't believe any more because I can see on the ground the reaction of the voters. They don't want to vote for us any more," Fenech told Radio Classique.

He was speaking a day after leading a failed bid to force a meeting of the party's executive that could have challenged Fillon's decision to continue his presidential bid.

Fenech referred to a meeting this week between Fillon and his camp as one of "mutual congratulation" in which "nobody wants to tell him the truth - or very few people".

"With that as a starting point we are going to the wall," he said. "There are other people in our party who are respectable, young and have the capacity to run the country."

Pressure grows on France's Fillon to pull out of race as MPs break ranks

Fillon had been favourite to win the presidency until allegations in a newspaper three weeks ago that his wife Penelope had been paid hundreds of thousands of euros in taxpayers' money for work she may not have done.

An official inquiry has been launched and the scandal has damaged Fillon's campaign. With 10 weeks to go until the presidential election, Fillon's place as favourite has been taken by centrist Emmanuel Macron, while far-right National Front leader Marine Le Pen has also gained ground.

Fillon was due to have a lunch meeting later on Wednesday with Sarkozy, whom he beat to the party ticket in a primary in November. Fillon served as prime minister during the Sarkozy presidency of 2007-2012.
COMMENTS
Comments are moderated and generally will be posted if they are on-topic and not abusive.
For more information, please see our Comments FAQ