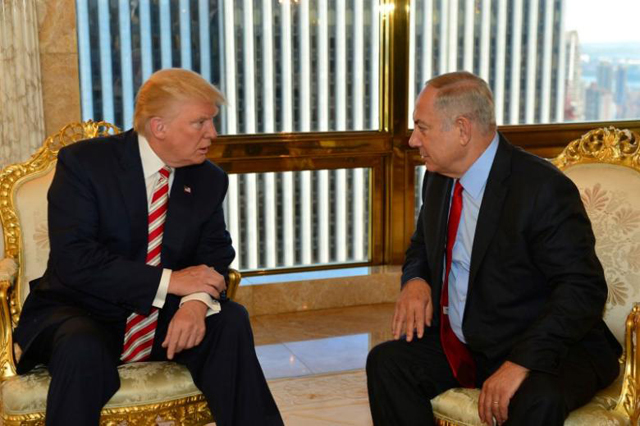 ---
The White House signaled a sharp break with decades of support for a two-state solution to the Israeli-Palestinian conflict Tuesday, on the eve of Prime Minister Benjamin Netanyahu's visit to the White House.

A senior White House official said the United States would no longer seek to dictate the terms of any eventual peace settlement, but would support what the two sides agree to together.

"A two-state solution that doesn't bring peace is not a goal that anybody wants to achieve," the official said on condition of anonymity.

Even under Trump, US in no hurry to move Israel embassy

"Peace is the goal, whether that comes in the form of a two-state solution if that's what the parties want, or something else if that's what the parties want. That's going to be up to them, we are not going to dictate what the terms of peace are going to be," said the official.

President Trump hosts Netanyahu at the White House on Wednesday, and is expected to express his desire to help broker a solution to the conflict. He has already tapped son-in-law Jared Kushner and lawyer Jason Greenblatt to lead his peace drive.

But major questions remain about how Trump will achieve that goal. For the better part of half a century, successive US governments — both Republican and Democrat — have backed a two-state solution. It was the basis of peace talks at Oslo and Camp David.

UN chief says Fayyad "right man" to be Libya envoy despite US objection

But since coming to office in late January, Trump has sought to show that the United States is an unwavering ally of Israel and tried to draw a contrast with the policies of President Barack Obama.

Netanyahu won re-election in 2015 by insisting he would not accept the creation of a Palestinian state, a vow that considerably soured relations with the Obama White House.

Obama often warned that Israeli settlement construction could make a two-state solution impossible, and that a one state solution would put the future of the Jewish state in question. Trump has shied away from criticizing Netanyahu's settlement policies as an impediment to peace, instead offering Israel some scope to build on land already under development.

"The construction of new settlements or the expansion of existing settlements beyond their current borders may not be helpful in achieving that goal," the White House said in a statement earlier this month.

Saeb Erakat, a senior Palestinian official, said it was not enough for Trump to say settlements were "unhelpful" but he must order an end to new building.

German-Israeli government meeting canceled amid settlements row

Netanyahu arrived in Washington on Monday, dined with US Secretary of State Rex Tillerson on Tuesday and after his White House talks with Trump on Wednesday will meet lawmakers.

Aside from winning support for policies that will help him at home, the Israeli leader will also want to get the measure of Trump's appetite for better relations with Russia.

Trump has signaled his willingness to work with Russia to defeat the Daesh group in Syria. That could de facto mean furthering the goals of Russian allies Bashar Assad and Iran.

Israel sees Iran and its Lebanese ally the Hezbollah militia as its greatest existential threat, a view shared by the leaders of the main Sunni Arab states of the region.

Dennis Ross, a US diplomat who worked on Middle East policy under both Republican and Democratic administrations, said Netanyahu's diplomatic goals would at first be modest.

Israel wouldn't oppose a rapprochement with Moscow in itself, but would urge Washington to use this as leverage to push Russia away from Iran.

"What he'd like to see is a distancing of Russia from Iran within Syria, maybe more of a move toward Turkey and less toward Iran in Syria," Ross told reporters on Monday.

Israel calls off discussion on permits for settler homes

Trump appears to have back-pedaled on a campaign threat to tear up Obama's Iran nuclear deal, which Israel bitterly opposed, but his administration has "put Iran on notice."

This appears to mean a more robust stance against military provocations and a determination to impose tough sanctions on Iran's missile program and covert support for militants.

Observers expect Trump and Netanyahu to get on well in public. Both have much to gain politically from marking a clean break from the Obama years.

But, personal chemistry aside, the pair will only make the relationship a success if it overcomes the disagreement that poisoned ties under Obama.