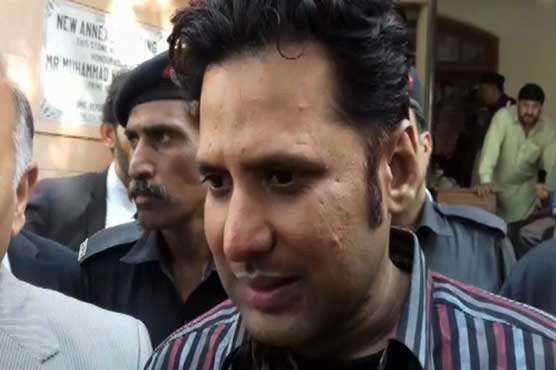 ---
KARACHI: An anti-terrorism court (ATC) framed on Tuesday charges against Muttahida Qaumi Movement (MQM) lawmaker Kamran Farooqui in illicit weapons and explosives cases, fixing March 7 as the date of the first hearing of his trial.

MQM MPA Farooqui was picked up by law enforcers from his residence in North Nazimabad in a pre-dawn raid on December 15, his party claimed.

The police, however, maintained that he was arrested during routine snap checking in Garden's Shoe Market area on December 17 as an unlicensed pistol, hand grenade and stolen motorcycle were found in his possession.

During the hearing, the ATC-IX judge read out the charges to the lawmaker and asked, as per formality, whether he confessed to these. Farooqui labelled them false and opted to contest.

The two cases are registered at the Nabi Bakhsh police station under Section 23(1)a of the Sindh Arms Act, 2013, sections 4 and 5 of the Explosives Substances Act, 1908, read with sections 6 and 7 of the Anti-Terrorism Act, 2013.

Police had also accused Farooqui of being involved in targeted killings of political rivals and terrorist activities in the city, particularly in the May 12, 2007 mayhem when around 50 people were killed and several others were injured.

The police also recorded his confessional statement before a judicial magistrate on December 20 last year in which he implicated MQM-Pakistan chief Farooq Sattar as one of the perpetrators behind the May 12 mayhem.

He had also admitted to his role and that of other top leaders of his party in the April 2008 Tahir Plaza incident in which a lawyer and five other citizens were burnt to death.

Meanwhile, MQM-Pakistan denied the allegations and asserted that the MPA's statement was taken under duress and was part of the victimisation campaign launched against the party.

Published in The Express Tribune, February 15th, 2017.