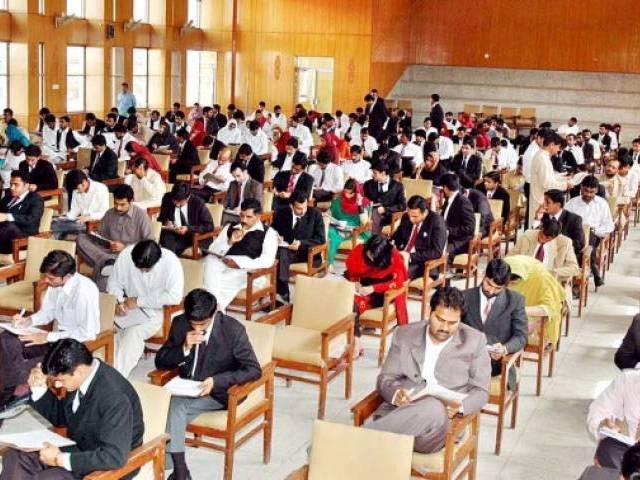 ---
LAHORE: The Lahore High Court has directed the Federal Public Service Commission (FPSC) to ensure holding of CSS (Central Superior Services) examination 2018 in Urdu language in view of the Supreme Court's verdict.

Justice Atir Mahmood passed the order on a petition filed by Advocate Saifur Rehman, a candidate of CSS 2017, who had objected to an FPSC advertisement that he said was silent about the language in which the examination would be held.

Most public varsity students come up short in CSS

The petitioner asked  the court to order the FPSC to conduct CSS examination in Urdu language as directed by the Supreme Court in a judgment in 2015. The judge, however, turned down the plea on the implementation of Urdu language in current year CSS examination due to paucity of time.

The commission's counsel informed the court that arrangements were being made for transfer from English to Urdu and a committee for the purpose had also been formed that would make recommendations in this regard in due course of time. He said the matter had also been taken up with the Higher Education Commission of Pakistan.

The judge held there was no denial to the fact that the judgment of the apex court was required to be implemented in letter and spirit. However, since the practice of conducting the examination in English is going on since long by the FPSC, it needs some time to shift from one language to another. The matter has already been taken up by the FPSC with the HEC.

Justice Atir observed that since the CSS examination was going to be held from the end of this month, the court was not inclined to issue an immediate order for the implementation of the SC verdict.

368 candidates pass CSS exam, 238 qualify for service

In 2015, a three-member apex court bench had directed the government to adopt Urdu as official language and fulfill its constitutional obligation in promotion of the language.

The court had ordered that copies of the judgment be sent to all the federal as well as provincial secretaries, who are required to take immediate steps for enforcement of Article 251 in line with Article 5 of the Constitution.

Published in The Express Tribune, February 15th, 2017.
COMMENTS (11)
Comments are moderated and generally will be posted if they are on-topic and not abusive.
For more information, please see our Comments FAQ