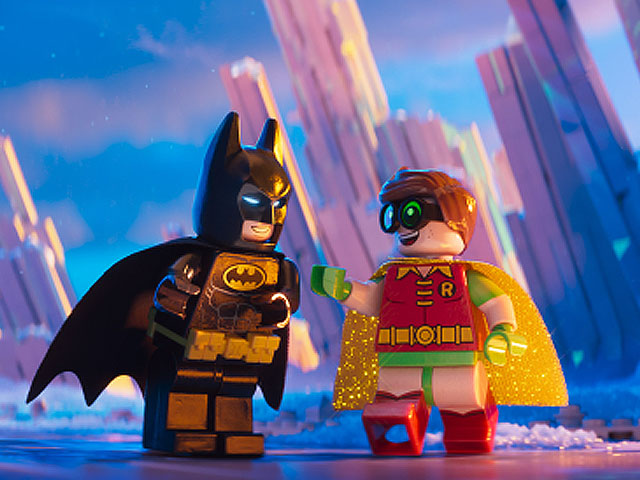 ---
Costumed avengers, a billionaire with a kinky side, and a brutally efficient hit man proved to be just the tonic for an ailing domestic box office.

The Lego Batman Movie bested Fifty Shades Darker at the multiplexes over the weekend, earning a robust $55.6 million to capture first place. Fifty Shades Darker, the sequel to 2015's Fifty Shades of Grey, couldn't quite match its predecessor's $85.2 million launch. It had to settle for a still sizable $46.8 million debut and second place on the box office chart.

The headlines will inevitably be about Fifty Shades Darker and The Lego Batman Movie, but the John Wick follow-up's numbers are more impressive. It grew its audience substantially, adding more female viewers to the mix.

'Kung Fu Panda 3' kicks up $41 million to dominate US Box Office

The three new releases succeeded by appealing to different demographics and age groups - kids went to the new Lego movie, women were titillated by Christian Grey's red room, and men looked on as Keanu Reeve's assassin made quick work of his foes. Heading into the weekend, stateside ticket sales were lagging behind last year's numbers, down nearly 3% from 2016. Studio executives and exhibition industry insiders hope that this weekend will help reinvigorate interest in moviegoing, a comeback that will be aided by the upcoming release of Logan, a new Wolverine movie, and a live-action version of Beauty and the Beast.

Warner Bros. backed The Lego Batman Movie and sees the animated films built around the line of Danish toys as being key to its corporate future. The studio is leaning heavily on a slate of animated Lego films, DC Comics adventures, and "Fantastic Beasts and Where to Find Them, a Harry Potter spinoff, to help it compete with Disney. That studio has popularized the concept of branded movies, with its arsenal of Star Wars, Marvel, and Pixar films.

US box office tops $10b, led by 'Finding Dory'

The Lego Batman Movie cost $80 million to make, which is downright affordable at a time when many animated films carry budgets that are more than $200 million. It pits Batman against the Joker, and boasts a voice cast that includes Will Arnett, Zach Galifianakis, Michael Cera, Rosario Dawson, and Ralph Fiennes. The series kicked off with 2014's The Lego Movie, which made $469.2 million globally. Next September brings another spin-off, The Lego Ninjago Movie, a martial arts adventure with the voice of Jackie Chan.

"Brick by brick, The Lego Movie launched related stories," said Jeff Goldstein, Warner Bros. president of domestic distribution. "This was just a fun and cool story."

The Lego Batman Movie now as the biggest opening of any 2017 release, but it did fall short of projections. Some analysts had predicted the family film would make more than $60 million.

Fifty Shades Darker is a Universal release. The studio didn't give a budget for the film (as is its wont these days), but knowledgeable estimates put its cost in the range of $55 million. The sequel may have lost some of the audience who saw the first film to see just how much riding crop would make its way to screens, but there are other reasons it couldn't equal the reception of Fifty Shades of Grey.

2016 set to be record-breaking year for US box office

That movie benefited from being released over the President's Day holiday, a period that also coincided with Valentine's Day, making it the date night movie dujour.

Nick Carpou, Universal's domestic distribution chief, said that he expects that the film will show more endurance than its predecessor. Valentine's Day takes place on Tuesday, and audiences are rating the sequel better than the original, giving it a B+ CinemaScore, as opposed to the C+ that Fifty Shades of Grey received. Critics, for their part, hated it, but they didn't care for the first movie, nor the book on which it is based.

"The interest in it will spread out more," predicted Carpou. "With next weekend being a holiday, it gives us a chance to have repeat business."

Have something to add in the story? Share it in the comments below. 
COMMENTS
Comments are moderated and generally will be posted if they are on-topic and not abusive.
For more information, please see our Comments FAQ