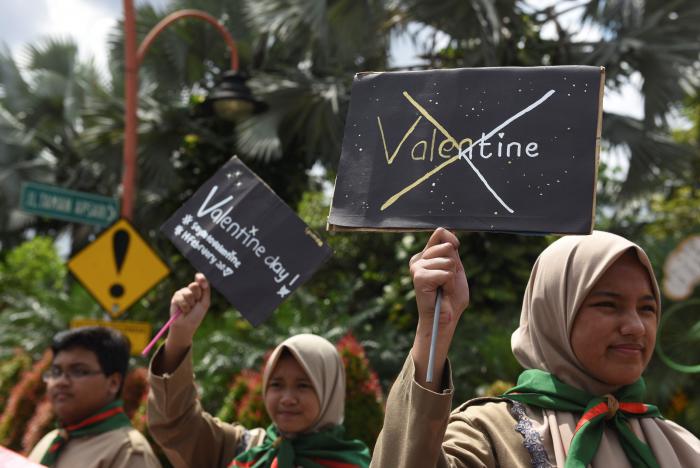 ---
JAKARTA: Indonesian authorities in parts of the Muslim-majority nation have confiscated condoms and banned students from celebrating Valentine's Day, saying the romantic tradition encourages casual sex and runs counter to cultural norms.

In the city of Makassar on Sulawesi Island, police raided minimarts and seized condoms that were readily available in most parts of Indonesia, a secular country whose state ideology enshrines religious diversity.

Ban on Valentine's Day: Flower shops bemoan slow business

"These raids were done after we received reports from residents that the minimarts were selling condoms in an unregulated way, especially on Valentine's Day," Makassar police official Jufri was quoted as saying in a media report.

He added employees of the minimarts were told not to sell contraceptives to teenagers, the report said.

Indonesia's highest Islamic clerical council declared Valentine's Day forbidden by Islamic law in 2012, saying it was contradictory to Muslim culture and teachings.

But the vast majority of Indonesia's more than 220 million Muslims follow a moderate form of Islam in a country with sizeable Christian and Hindu minorities.

In Indonesia's capital, Jakarta, and other parts of the country, Valentine's Day has grown in popularity with companies looking to cash in by offering special discounts and promotions.

IHC bans Valentine's Day celebrations across capital

For example, national flag carrier Garuda Indonesia (GIAA.JK) is offering a 15% discount on air fares this week and motorcycle delivery services are promoting week-long discounts to send flowers and chocolates to loved ones.

Rights groups have expressed concerns over the growing influence of militant groups, who have targeted how people lead their lives. A hardline group went around malls in East Java late last year to check whether outlets had ordered Muslim staff to wear Christmas apparel such as Santa hats.

In Indonesia's second largest city, Surabaya, government officials ordered schools to ban students from celebrating Valentine's Day "in or outside of school" because it ran counter to "cultural and social norms", according to a copy of the letter on the city's official website.

A similar letter was also sent to public education agencies and schools in West Java province, according to a statement on the provincial government's website. West Java is the country's most populous province.

West Java and other provinces, such as Aceh, which is the only province in Indonesia to follow Sharia law, have issued similar bans on celebrating Valentine's Day in previous years.

Under Indonesia's decentralised system of government, regional authorities are allowed to issue bylaws without approval from the central government.