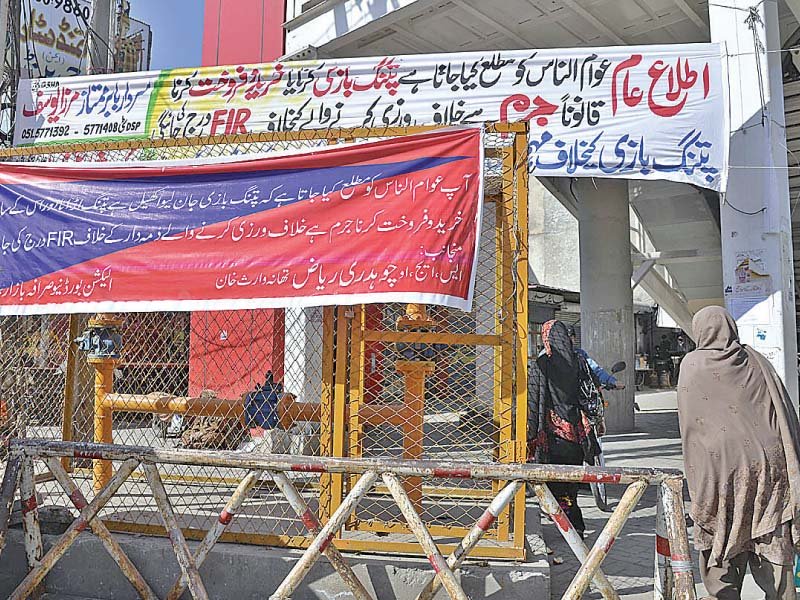 ---
ISLAMABAD: The Islamabad Capital Territory Administration (ICTA) on Monday banned the manufacture, sale and flying of kites in the capital in what they claimed was a  bid to "prevent danger to human life and ensure public safety".

The ban will remain in effect for two months.

In a notification, District Magistrate Captain (retired) Mushtaq Ahmed said he was imposing the ban under Section 144 of the Criminal Procedure Code.

The order added that the manufacturing and selling of kites, kite  strings (Maanjha), metallic wire and nylon cord "endangers human life and safety of the general public ".

"I prohibit the manufacturing and selling of kites, kite flying string, sharp Maanjha, metallic wire and nylon cord within the territorial limits of district Islamabad," the district magistrate's order read.

The ban came into effect immediately and will remain in place for two months.

In addition to barring its manufacture and sale, the magistrate has also restricted owners and occupants of all buildings, including houses, shops and hospitals to not allow the use of their rooftops for kite-flying.

Violators, he warned, would be arrested by the police and produced before executive magistrates.

The move comes after authorities in Rawalpindi launched a crack down against kite manufacturers and sellers in recent weeks.

Basant, the kite-flying festival, has traditionally been celebrated at the start of spring across Punjab and several other places in the country. However, there have been restrictions on the sport as sharp metallic wires and string used for the purpose has also led to several deaths in recent years.

Published in The Express Tribune, February 14th, 2017.