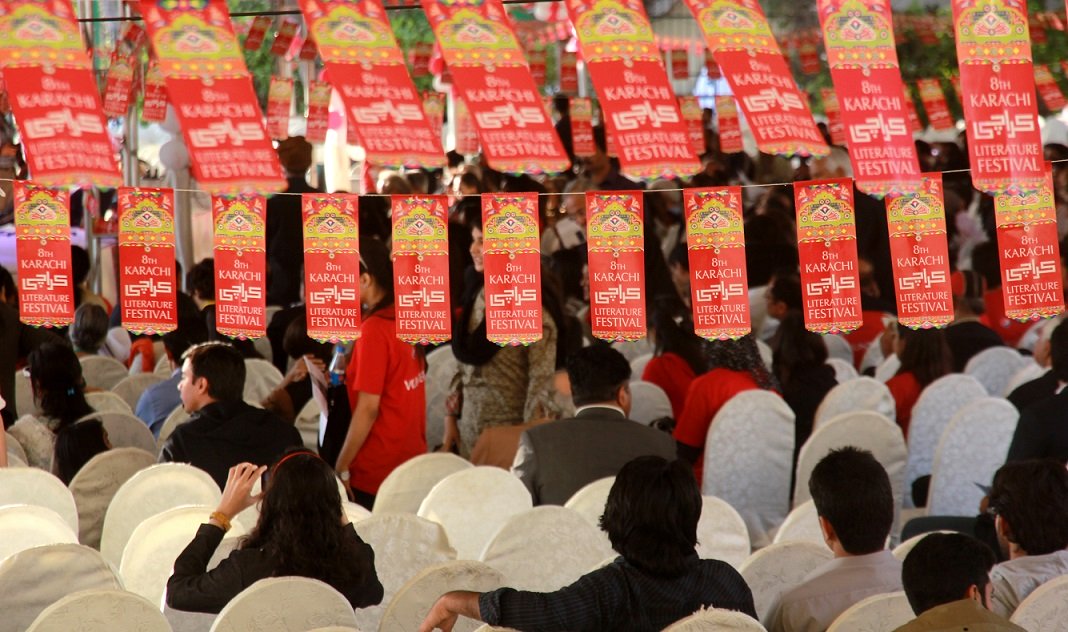 ---
KARACHI: The 8th Karachi Literature Festival (KLF) commenced Friday with ample fanfare around the country's creative aspects.

However, it did not take long for the nation's dire economic state to become a hot topic of debate.

It was an inevitable question, which the KLF organisers were almost goading the audience to ask: what kind of society is the current economic system creating?

This was a fundamental question underlining Sunday's session titled, 'Challenges and Risks to Pakistan's Economic Stability' where renowned economist Dr Kaiser Bengali, Sustainable Development Policy Institute (SDPI) Deputy Executive Director Dr Vaqar Ahmed and Friedrich-Ebert-Stiftung (FES) Resident Director Rolf Paasch looked to provide a cognitive answer.

KLF kicks off 8th edition by giving voice to the voiceless

Kicking off the session, moderator Abdul Qadir admitted that a thriving economy is the basis of a good society.

Bengali elaborated that currently Pakistan's economy is dealing with a crippling problem which is creating an unjust and unequal society.

"The real problem is not economics - it is that we have created an apartheid economy," said Bengali. "We currently have two Pakistans: one for the elite and one for the poor."

While talking about the states' economic system, Bengali explained that roughly there have always been two economic systems, the capitalist system and the socialist system. "What we have seen in the last decade is that capitalism has morphed into a neo-liberal economy, where profit is the ultimate goal, while socialism has evolved into social democracy."

In this system, Pakistan has reached an extremist position where there is rampant disparity and high levels of poverty, said Bengali.

"Statistics show that in Defence there are two-and-a-half rooms available per person while in Lyari 9 square feet are available per person."

Karachi always remains in your blood: Omar Shahid Hamid

According to Bengali, this problem is promoted by the government's incompetence. "The country's tax structure also does little to curb the problem," said Bengali. "10% of the rich pay 12% in income tax, while 10% poorest of the society pay 16% in taxes, we have a state that takes away from the poor."

Bengali highlighted that in terms of regional inequality the country lags behind. He stated that a 1982 study listed 10 of the poorest districts of the country and 9 of those were from Balochistan.

The leading economist, while talking about the country's foreign exchange reserves, said that the government is building them on the basis of foreign loans that coming generation will have to repay.

"We need to decide what kind of society we have to build; do we want to live in a society of justice? It is the state responsibility to offer proper housing, portable water and access to quality education."

A hunger for reading

SDPI chief Vaqar Ahmed offered his insight and emphasised on one of the key issues plaguing the economy is lack of decent work. "It is often the case that when the state cannot provide employment, one has to be self-employed."

However, according to Ahmed, the country's small- and medium-sized Enterprises (SMEs) have to face several challenges such as a regressive taxation structure, unnecessary permits, lack of access to infrastructure and outdated economy.

With these limitations the country's economy will constantly be struggling.
COMMENTS
Comments are moderated and generally will be posted if they are on-topic and not abusive.
For more information, please see our Comments FAQ