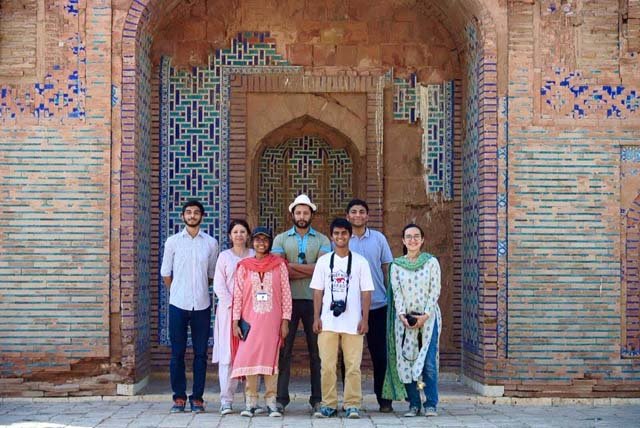 ---
KARACHI: When architect Zain Mustafa started teaching at Indus Valley School of Art and Architecture (IVS) in Karachi, he realised that a majority of his students were oblivious to Pakistan's incredibly rich and diverse pre-1947 history. He wanted them to have this plethora of information on hand and be proud of their cultural heritage, and so he started leading design educational tours to heritage sites in Sindh, such as Thatta, Makli, Ranikot and Moen Jo Daro.

Rediscover the familiar: A blast from Sindh's past

What started off as design tours for university art students have now attracted foreign diplomats, ambassadors and schools. Today, they run in collaboration with Sindh Tourism Board and are a part of Mustafa's Cube Education initiative, which is a "cultural bridging program" he started in 2012 after moving back to Pakistan.




Tourism in Sindh has suffered greatly in the last few decades because of security concerns. Even if you dare to get to these historical sites, there are no tour guides available to provide you with the context and history of these places. Mustafa's edu-tours not only take care of logistics and security elements of the trip but they do pop-up classrooms at the sites to provide groups with relevant information about these sites.

Moen Jo Daro excavation: 'Site undergoing maintenance to attract archaeologists'

"When you go to sites like Makli, it's hard to know where to start and where to end," says Mustafa. "It's a landmine of information and many PhDs can come out of it."

So, the night before we get on site, the group discusses the politics and history of design, he shared. "We have developed our own books, guide maps, fold-up maps that we provide to our groups," he says. One doesn't need to have an architectural background to go on these tours. "Anyone who has a thirst for knowledge can join us."




The tours are a way for Mustafa to revive the youth's pride in our cultural identity and history. "The average Pakistani is mocked globally and we're branded as chauvinist terrorist pigs," he says candidly. "The kids today are informed of everything else but have no knowledge of their roots. I wanted their references to change. Instead of looking at Ranikot and saying, 'Ranikot looks like the Great Wall of China', I want them to say 'the Great Wall of China looks like Ranikot'."

His love for these sites began in 2010 when he visited Makli for the first time with a friend who was doing documentation there. "That one trip blew my mind. Makli is a profound space. In tiny thumbnail of land not more than four kilometres long, you have 400 years of architectural history. It made me livid when I saw it falling apart. But restoration of Makli is a massive undertaking and at this point only conservation and first aid can be done."

Indus Valley Civilisation comes alive as Moen Jo Daro conference kicks off

Soon after this trip, he started working with Endowment Fund Trust, which is a non-profit that was established by the Government of Sindh for the preservation of the heritage of the province in 2008.

While the edu-tours take care of security concerns, Mustafa feels that Karachi poses more danger than the outskirts of Sindh where he leads his groups. "The people there are very warm and welcoming. They like the fact that people are visiting from the city. They often feel forgotten."




Even after creating customised guidebooks, researching and leading multiple tours in Sindh, Mustafa does not consider himself an architectural history expert. "A lot of times the work is being done in isolated pockets. And the only people who know about it are within that industry," he says. "The information is not coming to the public. That conduit, bridging of the gap is what I try to do with these educational tours."

Unfortunately, the edu-tours cannot take place all year round due to extreme weather conditions in Sindh. "We don't want the tourists to melt from the heat when they are walking for miles and miles around Makli."

Exploring the footsteps of Indus civilisation

He feels Punjab sites are taken better care of than the ones in Sindh. "Punjab is much more organised with its tourism and has excellent tour guides to offer. Punjab has looked after its heritage much better than Sindh."

Saba Khalid is a freelance writer living between Karachi and Berlin.
COMMENTS (1)
Comments are moderated and generally will be posted if they are on-topic and not abusive.
For more information, please see our Comments FAQ