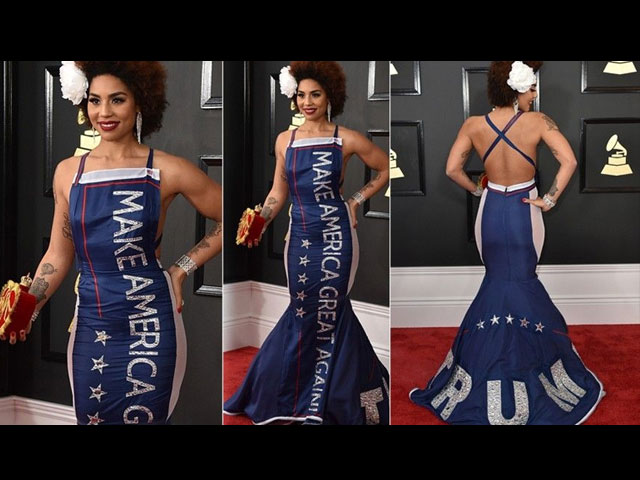 ---
The music world's hottest stars strutted their best stuff down the Grammys red carpet at the Staples Center in Los Angeles on Sunday. Here are the top moments from the A-list fashion parade:




Ladies in red




Nothing makes a statement like fire-engine red.




Beyonce avoided the red carpet spotlight but later sat in the audience in a sleek, form-fitting red sequined gown that clung to all her curves, including her baby bump. A chunky diamond necklace filled her ample decolletage.


https://www.instagram.com/p/BQcYCkYA_f6/?tagged=beyonc%C3%A9


Country singer Carrie Underwood earned rave reviews for her beaded high-necked Elie Madi gown with a huge diamond cutout that revealed a ton of cleavage.




Golden Globes 2017: Best and worst dressed


https://www.instagram.com/p/BQcX0SwBw8B/?tagged=carrieunderwood


Fellow country crooner Faith Hill also bared quite a bit in a red keyhole gown from Zuhair Murad. And Britain's Charli XCX stunned in a sultry strapless Vivienne Westwood gown with a deep sweetheart neckline.


https://www.instagram.com/p/BQcBm9nDL7P/?tagged=faithhill


Hello from the red carpet




Adele, the night's big winner with five Grammys including Album, Record and Song of the Year, turned to Givenchy for her red carpet look -- a pleated olive green gown with a chaste neckline, a criss-cross bodice and a fitted waist.




Pick up some best hairstyle trends from Golden Globes




Her hair was swept up, and her signature cat eye makeup was in place.


https://www.instagram.com/p/BQcZF50FNw4/?tagged=adele


The British balladeer later sang her megahit "Hello" in a different Givenchy gown, featuring a glittering bodice with hints of red that resembled panes of stained glass and a crystal-studded black full-length pleated skirt.




And for her tribute to George Michael, she wore all black -- and cross earrings similar to those the late pop singer wore.




And they wear pants too




After actress Evan Rachel Wood's much-adored tux at the Golden Globes, and her pledge to ditch dresses for all of awards season, the ladies of the music world embraced jumpsuits and pantsuits on Grammys night.




But these pantsuits were sassy, with cutouts galore.




Paris Jackson -- yes, the daughter of the King of Pop is now 18 -- earned plaudits for her youthful sleeveless multi-colored Balmain jumpsuit, the legs slit high and the bodice snipped out at the waist. Her blonde hair was cropped and shaggy.


https://www.instagram.com/p/BQbiQtbBmTm/?tagged=parisjackson


Country music singer-songwriter Brandy Clark rocked an all-black pantsuit with flared trousers. And R&B singer Mya looked sultry in a red pantsuit with a pussy bow blouse that was anything but innocent, with a naughty revealing bodice.


https://www.instagram.com/p/BQbjSq5jB9z/?taken-by=thebrandyclark


Make America Great Again




A pro-Trump statement at the Grammys? It seemed unlikely, and yet, there it was.


https://www.instagram.com/p/BQbu3nXFbfi/?taken-by=joyvilla


Singer Joy Villa arrived in a white cape... which she took off to reveal a tight red, white and blue gown with "Make America Great Again" emblazoned on the front... and a glittering silver "TRUMP" across the bottom of the train.


https://www.instagram.com/p/BQbb45eFqG5/?taken-by=officialandresoriano


On her Instagram feed, Villa -- known more for her red carpet statements than her singing -- said: "My whole artistic platform is about LOVE!"




The ensemble earned immediate scorn on Twitter and Instagram.




A few misses 




Jennifer Lopez may have rocked the Grammys red carpet once upon a time with her plunging barely-there green Versace gown, but on Sunday, she missed the mark in a frothy lilac Ralph & Russo halter gown open down to there and with a slit up to there.


https://www.instagram.com/p/BQb970hAKdm/?taken-by=jlo


Katy Perry turned to celeb designer Tom Ford, but the pale pink floor-length feather skirt topped with a somewhat ill-fitting metallic long-sleeve top didn't really work. Her message about "purposeful pop" -- far better.




"That's what we need more than ever... to listen to one another," the newly blonde Perry told E! Network on the red carpet.


https://www.instagram.com/p/BQcKRVaAFYE/?taken-by=katyperry


The underboob award goes to Lady Gaga, who was ready for her performance with Metallica in leather hot pants and a cropped jacket -- that revealed quite a lot of her breasts. Fishnets and thigh-high boots completed the look.




And on the men's side, Cee-Lo Green looked like a cross between Star Wars droid C-3PO and a gilded samurai warrior.


https://www.instagram.com/p/BQcBxgdgWMw/?tagged=ceelo


Have something to add in the story? Share it in the comments below. 
COMMENTS (1)
Comments are moderated and generally will be posted if they are on-topic and not abusive.
For more information, please see our Comments FAQ