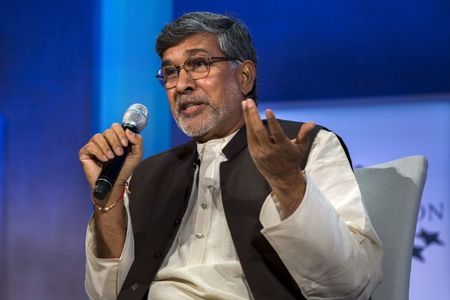 ---
NEW DELHI:
India's 2014 Nobel Peace laureate Kailash Satyarthi has expressed his relief and gratitude to police for recovering a replica of his prize medal that was stolen last week from his home in the capital New Delhi.
Police confirmed that they had recovered the replica and other items from Satyarthi's home, and arrested three brothers suspected of carrying out the burglary.
Colombian president receives Nobel Prize for peace accord
Satyarthi's Nobel citation was still missing but the investigating team believed it would be recovered soon, a deputy commissioner of police in the Indian capital told Reuters on Monday.
"I had complete faith in the government, the police and the people of this great nation," Satyarthi said in a statement on Sunday.
He thanked the city police for "the brilliant and speedy recovery" of the items stolen from his home. "Nothing can deter my mission to work towards my children," the peace laureate said.
Nobel Peace winner Malala 'heartbroken' by Trump order
Satyarthi's Nobel medal has been on display in a museum at the palace of Indian President Pranab Mukherjee, after the laureate decided to dedicate the medal to the nation in 2015.
Satyarthi, 63, gave up a career as an electrical engineer in 1980 to campaign against child labour. Since then he has led numerous peaceful protests and demonstrations to draw attention to the plight of children exploited for financial gain.
He shared the 2014 Peace Prize with Pakistani education activist Malala Yousafzai.