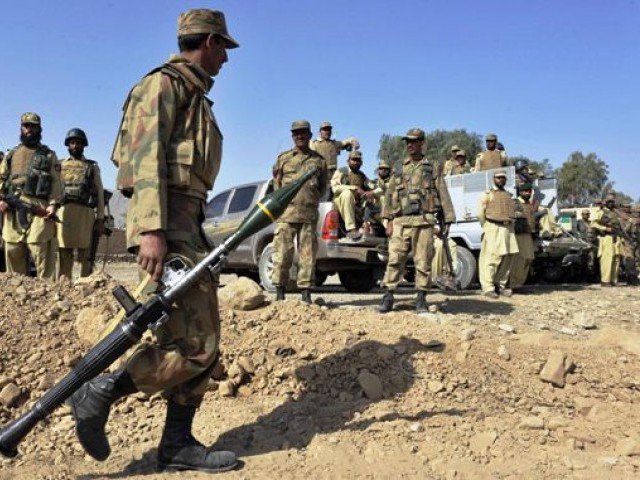 ---
PESHAWAR: At least three FC (Frontier Corps) soldiers were killed when an improvised explosive device (IED) went off near a security personnel vehicle in the South Waziristan agency.

The IED went off as the trio were on patrol Sunday on a motorbike in Toikhola village of the tribal district.

Army major killed in S Waziristan IED blast

"Three FC soldiers were martyred in a bomb blast during a patrol in South Waziristan," a senior security official told AFP, adding that the bomb had been detonated remotely.

The proscribed Tehreek-e-Taliban Pakistan (TTP) claimed responsibility for the attack in a statement issued to media. TTP spokesperson Mohammad Khorasani said a planted IED targeted vehicle of an FC vehicle at Gul Kas area.

The attack came as Army chief General Qamar Javed Bajwa visited the district, the military said, confirming the soldiers had died. South Waziristan is one of the seven semi-autonomous tribal areas where the army has for more than a decade been battling militants linked to the Taliban and al Qaeda.

Troops valour reestablished state's writ: COAS

The army launched an operation in June 2014 in neighbouring North Waziristan to wipe out militant bases in the tribal areas and end an insurgency that has cost thousands of civilian lives since 2004. As a result, security has improved. Attacks still take place, but fewer than previously.

PM Nawaz condemns attack

Prime Minister Nawaz Sharif strongly condemned the blast. In a statement released by the PM Office, the premier said, "The loss of precious human lives in the war against terrorism will always be remembered."

"We as a nation acknowledge their great sacrifices in the line of duty and will never forget them," he added.
COMMENTS (1)
Comments are moderated and generally will be posted if they are on-topic and not abusive.
For more information, please see our Comments FAQ