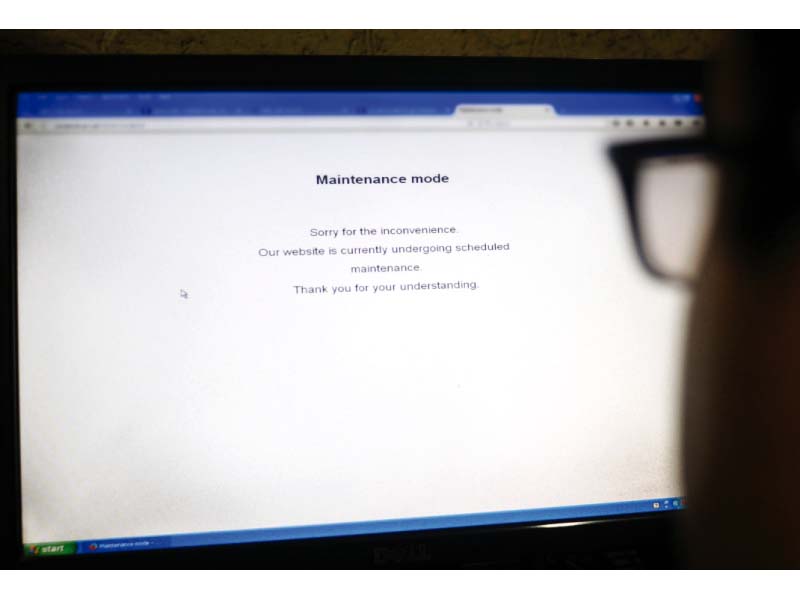 ---
RAWALPINDI: With almost a quarter of Pakistan's population connected to the internet, websites of different government departments serve as a bridge between elected officials and citizens.

However, that bridge has become a step too far in Rawalpindi where the official website of the Rawalpindi district government has been inactive for the past two months, which has irked citizens and is causing problems for them.

People trying to access the website, www.rawalpindi.gov.pk, are taken to a page which gives an error message stating "Maintenance mode, sorry for the inconvenience" before going on to display the message that "the website is currently undergoing scheduled maintenance, thank you for your understanding." Or, the site displays an "error establishing a database connection" message.

The website, launched during the grand digitisation period of the Chaudhry Pervez Elahi government, used to provide the public with information such as addresses, contact numbers, and emails of district authorities. Moreover, the site contains information on the focal officials for administrative affairs and information on the administrative officials to contact if they come across any problem.

This has also impacted overseas Pakistanis who used to access the site to obtain information about officials they could contact with regard to issues with their houses and neighbourhoods in the garrison city.

Yasir Farooq, an educationist, said that in addition to providing information on key officials, the website also had information on the culture, tradition and history of Rawalpindi.

He added that developing nations were converting to e-governance, however, the Rawalpindi city administration had shown no interest in actively running or updating the website.

Malik Khurram Shahzad, a lawyer, said that inactive websites actually deny citizens their basic rights of access to unclassified information about the functions and responsibilities of government functionaries.

He added that websites were an easy medium through which the public can access basic and necessary information in the digital age.

Noting that the Punjab government had also rolled out a new system of local governance, restoring the office of deputy commissioners, there was little information about these officials on the website.

He added that with officials of the local government system being sworn into office recently, citizens needed to remain up to date on these new developments.

According to a 2016 report by Lahore-based Digital Rights Foundation, a digital rights group, the Punjab and Khyber-Pakhtunkhwa governments were struggling to actively disclose information about their functions on their official websites

Efforts were made to contact Deputy Commissioner Talat Mahmood Gondal for comment, however, he was not available to speak to The Express Tribune.

Published in The Express Tribune, February 13th, 2017.
COMMENTS
Comments are moderated and generally will be posted if they are on-topic and not abusive.
For more information, please see our Comments FAQ