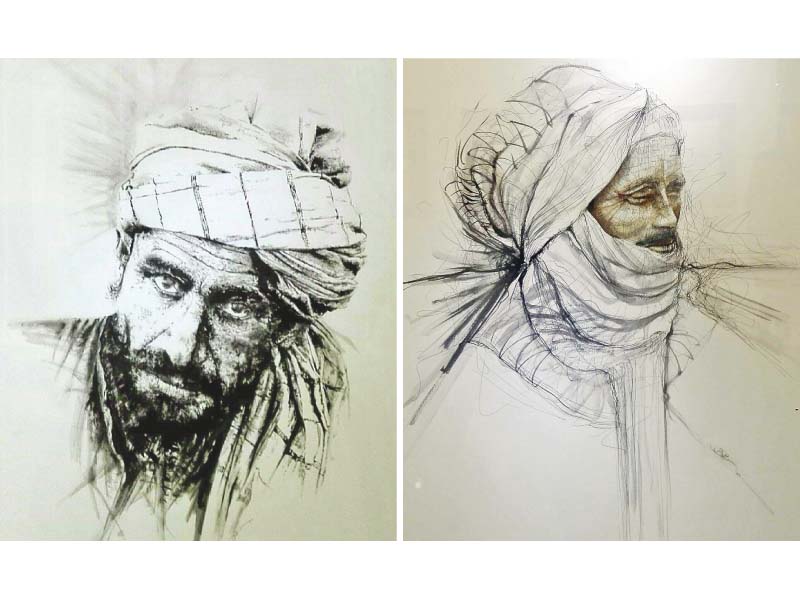 ---
LAHORE: A solo exhibition of 44 art pieces by Bilal Ashraf Butt, portraying how complexities of life affect the morphology of human faces, as well as of horses, is on display at the Hamail Art Gallery till February 16.

The artist's inspiration stems from a combination of observation and sensitivity, translated through experiences and expertise with a specific approach in the show titled 'Wear and Tear of Life'.

"For me, art is a celebration of what we feel and how we aspire to portray that sensation and my style offers a blend of fierce yet careful, intense and deceptively subtle lines," Bilal says while talking to The Express Tribune.

There is an energy that is executed through intricate and bold strokes drawn on canvas using mainly ink with pen, brush or pen to create black and white art pieces.

Throwback Thursday: 'Gems of Lahore' showcases art of old painters

During his artistic journey between Egypt and Pakistan, Bilal's fascination for drawings and painting of ethnic portraits and figurative subjects persuaded him to conduct experimentation in similar style. Born in Dubai and moving on to live in Quetta, Balochistan for a considerable time of his life, he discovered a connection to the forgotten faces and places he once lived in through drawing faces with bearded, rugged or worn-out looks.

"For me this worn-out look shows the actual wear and tear of life that an individual has gone through," Bilal, who teaches fashion design in Cairo, Egypt, said. "I find perfection in imperfection of these lines which shows the reality of life."

Group exhibition: Colours on canvas depict political turmoil

The artist's tendency to revisit rural life in the Middle East and Balochistan further inspired him towards this specific genre of portrait. "Ethnicity connects us at various levels and I want the viewers to be greeted by that connection and familiarity with awe," he said.

Bilal said that even though he was currently working as a fashion illustrator, he had formal training in figurative drawing as well. "My mentors were very much into portraits, which also drew me towards aesthetics of anatomy and figurative elements," he said, adding the faces he chose to draw are not imaginary and he always uses references.

Curator Jamil Ahmed said drawing old faces and depicting their age was a relatively tricky thing to do, and the artist had managed to pull it off with great skill.

Published in The Express Tribune, February 13th, 2017.
COMMENTS
Comments are moderated and generally will be posted if they are on-topic and not abusive.
For more information, please see our Comments FAQ