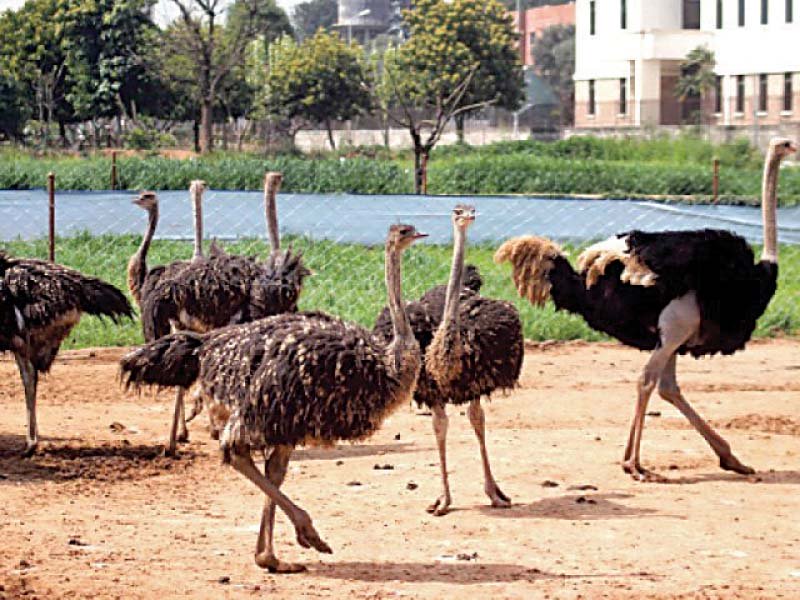 ---
MULTAN: The provincial government is providing assistance of Rs10,000 per ostrich bird with an objective to ensure promotion of protein rich, low-fat meat and economic uplift of farmers in Punjab. Initially, 5,000 ostrich birds will be registered for the purpose.

This was said by Livestock Department Spokesperson Dr Majid on Sunday. He added the project would help improve the supply of quality ostrich meat in the province. The project was a joint venture of livestock department and the University of Veterinary and Animal Sciences Lahore, he said.

Project Coordinator Dr Khizar said the government was offering Rs10,000 against per bird in three phases. He maintained 2,000 birds had been registered so far and farmers were taking interest in ostrich farming. "Different farms have been developed in Multan, Vehari, Khushab, Rahim Yar Khan and some other areas of Punjab," he said.

Discussion: Workshop on developing ostrich farming held

Regarding profit margin on ostrich farming, he pointed out Rs35,000 to Rs40,000 could easily be earned from one bird in a year and ostrich skins could also be sold at good price.

He said, "An ostrich has an average age of 50 years and the average weight of an ostrich egg is 1,500 grammes so farmers can earn handsome amount by selling the eggs."

The project coordinator revealed that ostrich meat was almost cholesterol-free and available for Rs1,000 to Rs1,200 per kilogramme in the market.

To another question, why had the ostrich bird not nurtured earlier in Pakistan, Dr Khizar observed it was present in list of wildlife in the past but farmers had to seek licence for keeping the bird. However, in 2012, Punjab Assembly passed a bill and made ostrich part of livestock sector and now farmers could nurture it without obtaining a licence.

Published in The Express Tribune, February 13th, 2017.