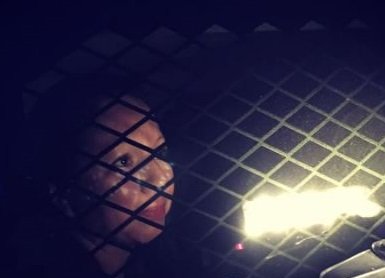 ---
An Arizona mother of two who lived in the United States for more than 20 years was deported to Mexico on Thursday, becoming one of the first to be swept up in the Trump administration's crackdown on illegal immigrants in the United States, her attorney and family said.

Guadalupe Garcia de Rayos, 36, was taken to Nogales, Mexico, on Thursday morning by US immigration staff, her attorney Ray Ybarra-Maldonado told a news conference. Both of her American-born children and her husband remained in the United States.

Her detention sparked a protest on Wednesday outside a Phoenix Immigration and Customs Enforcement (ICE) office during which seven demonstrators were arrested.

Mexican president condemns Trump's wall plan

Garcia de Rayos, who came to the United States at age 14 and was living in the Phoenix suburb of Mesa, had been allowed to remain under the Obama administration's policy despite a 2013 arrest by immigration officials, her attorney said.

ICE spokesperson Yasmeen Pitts O'Keefe confirmed in an email that Garcia de Rayos was deported to Mexico. "Ms. Garcia, who has a prior felony conviction in Arizona for criminal impersonation, was the subject of a court-issued removal order that became final in July 2013," Pitts O'Keefe said.

"Ms. Garcia's immigration case underwent review at multiple levels of the immigration court system, including the Board of Immigration Appeals, and the judges held she did not have a legal basis to remain in the US," she said.

Pitts O'Keefe declined to give details of the arrest, but Garcia de Rayos' attorney said she was arrested in 2008 as part of a workplace raid at a Mesa water park and accused of identity theft. Garcia de Rayos was required to check-in annually with officials and was taken into custody on Wednesday after her regular check-in.

Mexico foreign minister denies report he changed Trump wall

Her attorney and family decried the action.

"What have we come to as a society when we allow our government to rip a mother away from her two children?" Ybarra-Maldonado said at the news conference outside the ICE office.

Her teenage daughter, Jacqueline, vowed to continue efforts to bring her mother back to the United States. "I'm going to keep on fighting for my mom and for the other families that are going through the same thing because this is unfair," she said.

The Obama administration's policy that focused on deporting criminals had allowed Garcia de Rayos, 36, to stay in the U.S. even after her 2013 arrest by immigration authorities, so long as she checked in with them annually, immigration justice group Puente Arizona said.

Trump, however, has taken a harder line, directing immigration officials to end the practice known as "catch and release" and deport all illegal immigrants instead, even if they have not committed serious crimes or pose any danger.

"We are dealing with a fascist president who is a white supremacist who doesn't have any kind of consciousness," Puente Arizona spokeswoman Lucia Sandoval said during a telephone interview from the Phoenix protest site.

Trump orders building of Mexico border wall

"Power to the people. This is what democracy looks like," protesters chanted, while a man hugged the driver's side wheel of the van carrying Garcia de Rayos. He was eventually arrested, media said.

A total of seven protesters were arrested, Phoenix police said on social network Twitter.


Besides the few people engaged in criminal acts, most people out here are peaceful and exercising their rights properly.

— Phoenix Police (@PhoenixPolice) February 9, 2017


Mayor Greg Stanton of Phoenix, issued a statement on Twitter:


My statement regarding the federal detention of Guadalupe Garcia de Rayos and last night's public protest. pic.twitter.com/yIqAt8kAgL

— Greg Stanton (@gregstantonaz) February 9, 2017
COMMENTS (2)
Comments are moderated and generally will be posted if they are on-topic and not abusive.
For more information, please see our Comments FAQ