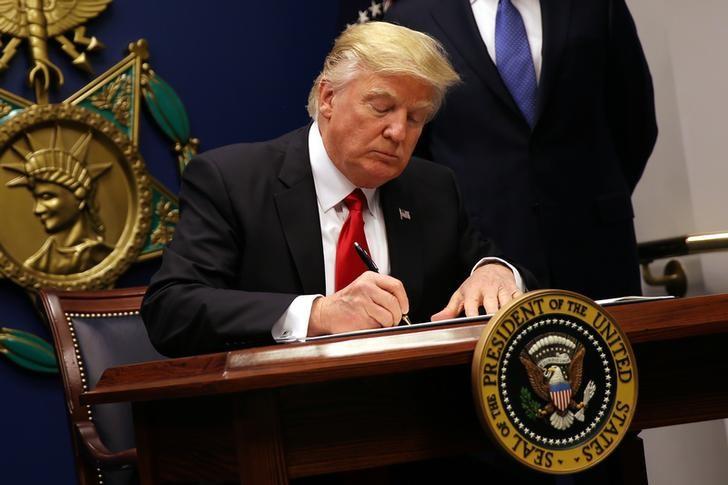 ---
WASHINGTON/ PALM BEACH: President Donald Trump is considering issuing a new executive order banning citizens of certain countries travelling to the United States after his initial attempt to clamp down on immigration and refugees snarled to a halt amid political and judicial chaos.

Trump announced the possibility of a 'brand new order' that could be issued as soon as Monday or Tuesday, in a surprise talk with reporters aboard Air Force One late on Friday, as he and the Japanese premier headed to his estate in Florida for the weekend.

His signalling of a possible new tack came a day after an appeals court in San Francisco upheld a court ruling last week that temporarily suspended Trump's original January 27 executive order banning travel from seven Muslim-majority countries.

US visit called off after Senate deputy chairman denied visa

Trump gave no details of any new ban he is considering. He might rewrite the original order to explicitly exclude green card holders, or permanent residents, said a congressional aide familiar with the matter, who asked not to be identified. Doing that could alleviate some concerns expressed by the courts. A new order, however, could allow Trump's critics to declare victory by arguing he was forced to change course in his first major policy as president.

Whether or not Trump issues a new order, his administration may still pursue its case in the courts over the original order, which is still being reviewed by the 9th US Circuit Court of Appeals.

White House Chief of Staff Reince Priebus told reporters late on Friday that taking the case to the Supreme Court remained a possibility, after another White House official said earlier in the day the administration was not planning to escalate the dispute.




"Every single court option is on the table, including an appeal of the Ninth Circuit decision on the TRO (temporary restraining order) to the Supreme Court, including fighting out this case on the merits," Priebus said. "And, in addition to that, we're pursuing executive orders right now that we expect to be enacted soon that will further protect Americans from terrorism."

Appeals court blocks Trump's travel ban

An official familiar with Trump's plans said if the order is rewritten, among those involved would likely be White House aide Stephen Miller, who was involved in drafting the original order, as well as officials of the National Security Council, Justice Department and Department of Homeland Security.

It is not clear if a new order from Trump would immediately put a travel ban back in place, or if those who have filed lawsuits, including the state of Washington, would succeed in asking the same judge for another hold.

Should Trump issue a new order, he is still likely to face legal challenges, as opponents could ask the court to let them amend their complaints, said Alexander Reinert, a professor at Yeshiva University's Cardozo School of Law in New York.

Published in The Express Tribune, February 12th, 2017.