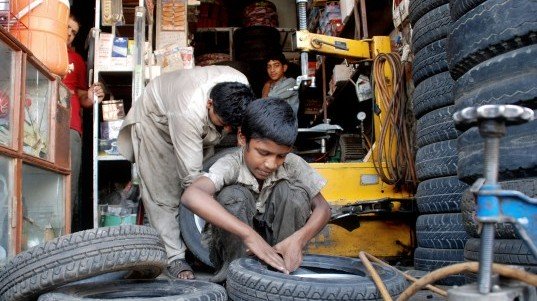 ---
BAHAWALPUR: The number of child labour cases is continuously rising in Bahawalpur while the labour department is tight-lipped on the situation and actions are only limited to paper work.

District labour office in the city inspected around 451 locations from January 2016 to December 2016 and registered FIRs against 30 people for hiring child labour, said District Labour Inspector Bahawalpur Mehar Azhar Hayaat while talking to The Express Tribune.

According to The Global Slavery Index 2013, Pakistan comes third, after Mauritania and Haiti, in the prevalence of child labour. The government has failed to conduct a child labour survey since 1996, which made it difficult to ascertain details of children working in different sectors in the country.

A resident of Bahawalpur Chaudhry Abdul Razzaq said there are a number of places in the city where minor children are forced to work at shops, workshops of mechanics, naan shops, confectioneries and tea stalls. The areas where these children can be found working are Circular Road, Fareed Gate, Fawara Chowk, Saraiki Chowk, Welcome Chowk, Shahi Bazaar, Chowk Bazaar and Saraafa Bazaar.

He demanded of Bahawalpur Commissioner and Bahawalpur DCO to take notice of this situation.

It is also believed that it is extreme poverty that leads the parents of young children to put them to work.

Ten-year-old Kashif who is learning welding said his father is a patient of tuberculosis and works as a labourer. "I am paid Rs50 per week from a shop where I am learning welding. I want to go to school but it's impossible due to poverty," he said with tears rolling down his cheeks. Another child, Muhammad Iqbal, eight, said he has eight siblings and their father works as a labourer. "In order to support my family I started working at a tractor workshop and I get Rs50 per week," he said.

Likewise, the story of Muhammad Shoaib, 13, is not different. He is a resident of Mehndi Wala Khoo and his father works at a brick kiln. He has six siblings and nobody goes to school. "I work at a shop 15 hours a day where I am also learning how to operate a lathe machine," he said.

Mehar said whenever they come across the news of a child labour they raid the place and deal with the people involved.

"Around 30 FIRs were registered in 2016 alone against people for hiring child labour and we have dealt with 29 cases. A fine of Rs900,000 was imposed on these suspects," he said. He added that the labour department is trying to implement laws related to child labour and seriously dealing with the people involved.

Published in The Express Tribune, February 12th, 2017.
COMMENTS
Comments are moderated and generally will be posted if they are on-topic and not abusive.
For more information, please see our Comments FAQ