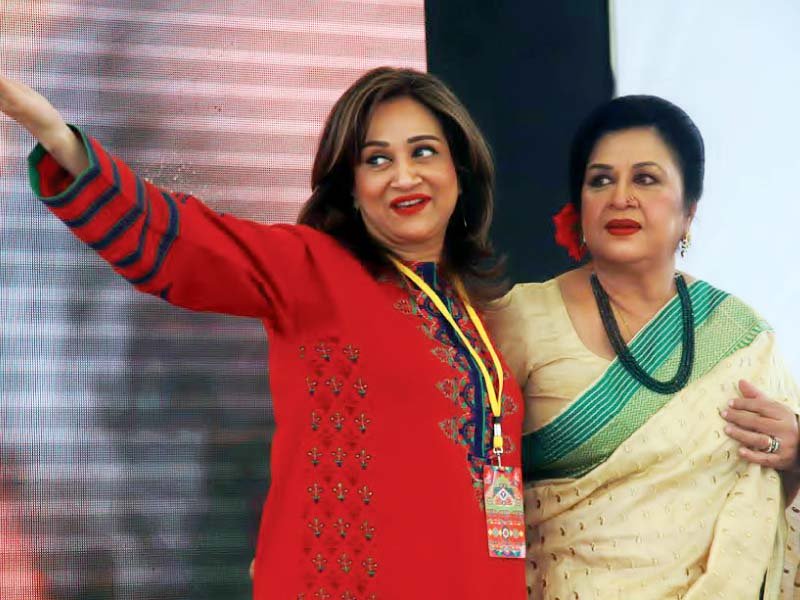 ---
KARACHI: Karachi might have changed a lot since Shabnam last saw it in 2012 but the love and appreciation she still receives has not changed at all.

The jam packed session of the yesteryear superstar on the second day of the 8th Karachi Literature Festival was a testimony to that. The determination to see the actress was such that the 30-minute delay in Shabnam reaching the venue hardly deterred any of her fans from attending the session, being moderated by actress Bushra Ansari.

With limited time on her hands, Ansari quickly asked a question that most of the people in the audience wanted to know: does Shabnam want to come back to Pakistan and act. And to the audience's delight, she responded that given an opportunity, she would love to come back and work.

"The overwhelming love that I receive here makes me want to come back," she said in Urdu with a tinge of Bengali accent.

Ansari further asked why the Lollywood superstar left her career and move back to Bangladesh. "After having worked in the industry, I thought it was my time to retire," she said, adding that she wanted to spend more time with her family and believed it was her time to bid acting adieu.

Discussing her marital life, the former actress said that her husband, music composer Robin Ghosh, had shown complete trust in her and let her excel in her career. "It was a time when we did not have cellphones and he would have my entire day's schedule and we would work accordingly," she reminisced. Citing an incident on her punctuality, she said that once she had reached a movie set and the only people she found were the sweepers.

Language had initially been a barrier in Shabnam's film career but her determination and dedication helped her overcome that barricade. "After my first two movies became hits, I was flooded with many offers but I was scared to accept them since I did not understand the language," she said, adding that she had to spend two years to learn how to read and write Urdu.

In response to another question, Shabnam said that the port city had changed a lot since she visited it last. "It was better when we were poorer and had less cars," Ansari humorously added.

Published in The Express Tribune, February 12th, 2017.
COMMENTS
Comments are moderated and generally will be posted if they are on-topic and not abusive.
For more information, please see our Comments FAQ