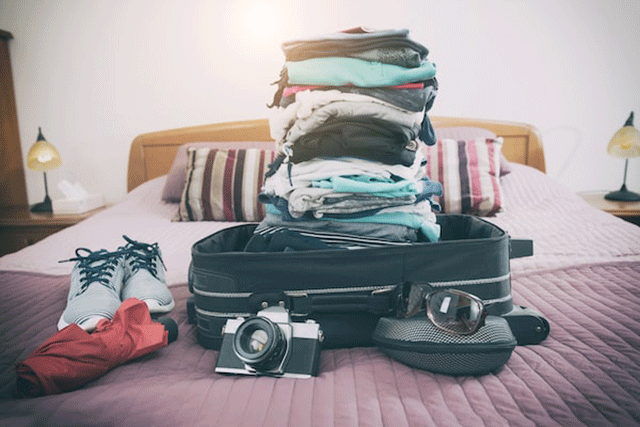 ---
Preparing for a weekend getaway is no easy feat, especially when trying to pack light. A savvy traveller, however, knows that you need less than you think. The general goal shouldn't be to pack the least amount of things but to pack the most relevant things.

We've culled through hundreds of tips provided by travel experts to ensure you too become a packing pro.

1. Make a packing list

Making a list for your weekend away will take you a long way. Take into consideration the activities and events you'll be attending as well as the local weather for the area. Brainstorm all the things you may will need from your travel documents, to toiletries and personal items. Not only will this enable you to remove non-essential items from your list, but will also double up as a checklist to ensure you've repacked your belongings at the end of the trip.




2. Wear the same outfit on both flights

Deciding what to wear to travel is vital, especially when travelling to a destination where the climate will be quite different. Ensure you wear your heaviest items, such as coats, jackets or boots; which will give you extra room in your luggage. Layering clothing is also a good idea as planes too can be chilly.




3. Opt for miniature toiletries 

Toiletries are essential and there are some items that you just can not do without. However, shampoo, conditioner, deodorants, moisturisers, hair products and shaving cream all come in bulky packaging and won't allow for a light suitcase. Instead, opt for smaller versions of your favourite products or empty your items into smaller, plastic containers. Not only will you save more space in your luggage, but you can also get rid of them before returning.




4. Minimise clothing 

Pack only what you know you'll wear and not what you think you'll wear. Opt for solid colours over prints to ensure you maximise your outfit combinations. Choosing lighter and thinner clothing which is carefully rolled instead of folded will also help you to save space. If you're travelling to a colder climate then carrying a coat or jacket in your hand will also prove beneficial.




5. Pack all-purpose shoes 

A piar of sturdy and comfortable shoes will see you through an activity-filled weekend. Depending on what you plan to do for the weekend, your shoes should be versatile enough to match with different outfits and be practical enough to wear for extended periods of time. Should you need to carry two pairs of shoes, wear your heaviest pair and pack the lighter pair at the bottom of your luggage; placing socks and undergarments inside.


COMMENTS
Comments are moderated and generally will be posted if they are on-topic and not abusive.
For more information, please see our Comments FAQ