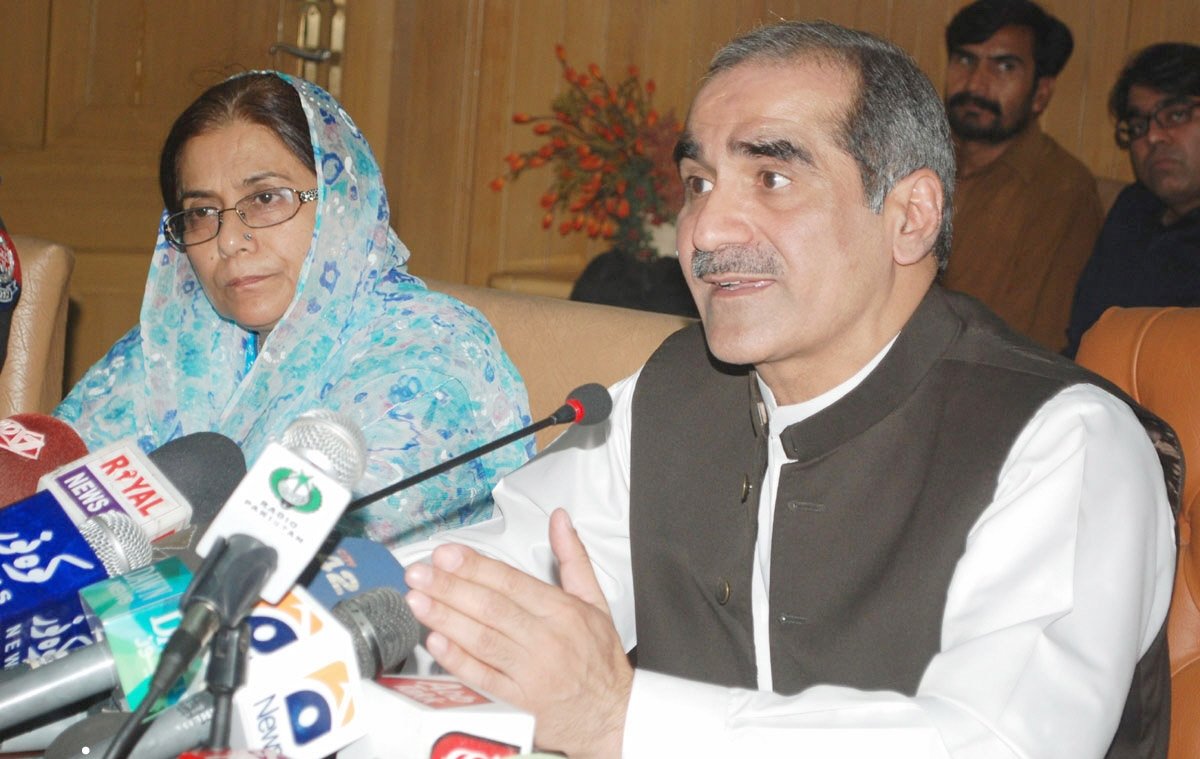 ---
SWABI: Minister for Railways Saad Rafique has called the PTI chief Imran Khan 'a burden' on democracy and a politician hell bent on destroying the political set-up.

"The PTI chief Imran Khan is hell bent on destroying the democratic setup through his childish politics. However politics of agitation and confrontation has no future in the country," Rafique said, while addressing a PML-N workers convention in Khyber-Pakthunkhwa's (K-P) Swabi district.

Grow up Imran Khan, says Saad Rafique

"Now only those people will progress who have a solid agenda for serving the masses," he added.

The convention was also addressed by Planning Minister Ahsan Iqbal, PM's Adviser Ameer Muqam and the PML-N office-bearers from the district. On the occasion, a number of noted local figures announced joining the ruling party.




Rafique said people would not support any move that could lead to derailment of democracy in the country as all political entities were united for strengthening democracy. He advised Imran Khan not to destroy his own politics and to demonstrate maturity.

In his hard hitting speech, the federal minister questioned the people of K-P whether dance and musical shows during political rallies was the culture of the K-P. He also asked the K-P people to ascertain from Imran Khan how many projects were initiated by his provincial government.

Foreign powers backing Imran Khan to destablise Pakistan: Saad Rafiq

"When the PML-N came to power, the country was in massive grip of terrorism and unrest as ten blasts took place every day. There was total chaos in the country but the PML-N has brought a noticeable change to ensure peace, harmony and economic stability in the country.

He said, "certain people have obtained permits of telling lies on TV talk shows every night," adding that the people have matured now and they could not be misled anymore by such fabricated talks and would vote for the party that would deliver.

Rafique assured people of the district that PML-N and its leadership was with them and would resolve their problems. He welcomed those who announced to join the PML-N by leaving the PTI. "If PML-N gets another chance it would change the destiny of nation," he claimed.

Speaking on the occasion, Ahsan Iqabl said Premier Nawaz Sharif brought the country out of bankruptcy and put it on the track of development. He said the total assets of the country had crossed the figure of 24 billion dollars, for the first time in the history of Pakistan.

"The PTI and its allies have misguided the people on the CPEC [China Pakistan Economic Corridor] and its western route and development project; but the K-P chief minister has witnessed that federal government is sincere in giving the K-P its due share in the project by every means," he said. (WITH ADDITIONAL INPUT FROM APP)

Published in The Express Tribune, February 11th, 2017.