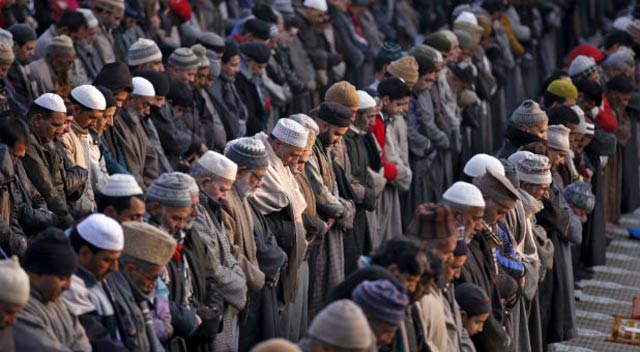 ---
KARACHI: While the population ratio of Muslims in India has increased, they have become increasingly marginalised in terms of rights and opportunities, said Stanford University professor Thomas Blom Hansen.

He gave a one-hour lecture, titled 'The India that does not shine; how Muslims became India's poorest community', at the Tariq Rafi lecture hall of Habib University Thursday evening. He detailed how Muslims, the second-largest religious group in terms of population, became the most marginalised group after Independence. The lecture was part of a series by two professors of Stanford University.

Quoting startling facts and figures in his presentation to depict the situation of Muslims in India, Hansen shared that India's Muslims, once the second largest religious population in South Asia comprising 30% of the Subcontinent's population, has now become a severely disadvantaged minority standing at 14%, which is excluded from the government and the formal economy.

BJP leader blames Muslims for India population rise

Other than that, he said, Muslims were also frozen in the political frame of the 1940s and 1950s, continuously portrayed as an internal threat. He added that in today's era, Muslims are poorer, less educated and more isolated than they were 50 years ago.

He mentioned how the Bharatiya Janata Party (BJP) has always encouraged hatred against Muslims. He shared one of the slogans the current Prime Minister of India, Narendra Modi, promoted in 2002, which says 'Hum do hamaray do, voh panch, un kay pachees' implying that Hindus insist on having two children while Muslims continue to multiply their population by having five children, which then results in 25 grandchildren. Such slogans routinely orchestrated by BJP and Rashtriya Swayamsevak Sangh (RSS) were to encourage Hindu families to have more children to counter the alleged Muslim demographic pattern in India.

Sharing demographic statistics, Hansen shared that Muslims in 1951 constituted 9.93% population of India while in 2011 it was 14.2% with a total 172 million people. Muslims, as compared to Hindus, in India have higher birth rates because of higher survival rate of girl child, lower infant mortality rate and slightly higher average longevity, he said.

"The Sachar Committee's report presented in 2006 mentioned that 18% population of India will be Muslim by 2050, which is 300 million approximately," he said.

The professor, who has researched on issues faced by Muslims in India, pointed towards the social stagnation faced by the people. "Thirty-three per cent of all [the] Muslims are [living] below poverty line while 20% in general only [complete] matriculation," he said. "Muslim women are the least educated group in India but luckily [their numbers are] increasing."

Muslims are not a direct part in the economy of the country because they are manual workers, artisans, small farmers and traders, he claimed. "Mostly, Muslims are employed by other Muslims [and] not by the state," shared Hansen, adding that 70% works in the informal sector and only 1.5% to 2% is able to make it to the higher bureaucracy and army.

Will take 220 years for India's Muslim population to equal Hindu numbers

Quoting the recommendations presented by the Sachar Committee's report, he said that rights should be provided to the biggest minority by creating quotas for Muslims in education and public sector to curb the biggest problems of India.

Answering a question, he said that the key challenge that India faces is to integrate Muslims into the formal economy and to implement strong and anti-discrimination policies. "Hundreds of Muslims have gone to court to fight for their rights but nothing has been considered," he said, answering a query. He added that despite the fact that the problem is huge, there is no awareness in India about the problems and how Muslims being suppressed on such a large scale.

Published in The Express Tribune, February 11th, 2017.
COMMENTS (3)
Comments are moderated and generally will be posted if they are on-topic and not abusive.
For more information, please see our Comments FAQ