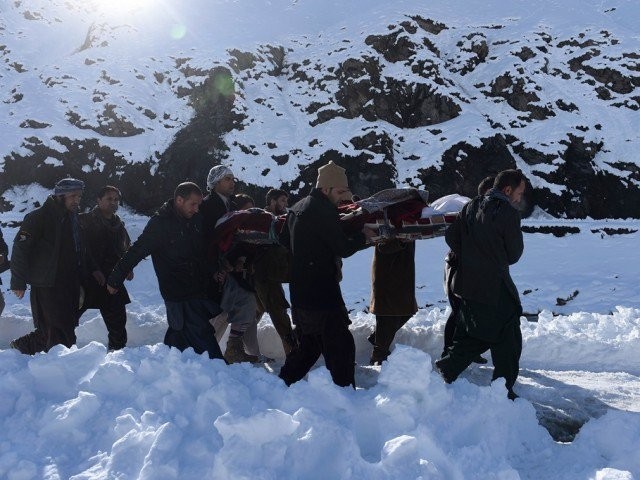 ---
KABUL: The death toll from avalanches and freezing weather conditions across Afghanistan has risen to 191, officials said Friday, as rescue operations were underway in the worst-affected areas.

Twenty-two provinces in Afghanistan have been blanketed by days of heavy snowfall, triggering avalanches, destroying buildings and leaving many trapped in their snowbound homes.

"The death toll we have received from avalanches and freezing weather has risen to 191," Mohammad Aslam Sayyas, deputy minister for disaster management, told AFP.

"The worst-hit province is northeastern Nuristan where at least 68 people have been killed," Sayyas said.

Afghans dig with 'any tools possible' for avalanche survivors

He added that search and rescue efforts had been stepped up this week amid improving weather conditions, after the authorities initially struggled to reach remote mountainous areas.

Sayyas said 300 people have been injured and more than 500 others were rescued in different parts of the country.

Residents of Nuristan have suffered heavy financial losses as dozens of houses have been destroyed, provincial governor Hafiz Abdul Qayyom told AFP, adding that cash and food items were being delivered by helicopter to bereaved families.

The International Federation of Red Cross (IFRC) said thousands of families in Afghanistan and neighbouring Pakistan were struggling to survive after heavy snowfall in both countries.

"Life will never be the same for these families," Ariel Kestens, IFRC's chief in Afghanistan, said in a statement.

Afghanistan avalanche 'kills at least 50'

"Losing everything that they have overnight is already tragic enough. Having to cope with extreme cold on top of that is a life-changing experience, regardless of how used to low temperatures they are."

Deadly avalanches are common in Afghanistan's mountainous areas in winter, and rescue efforts are frequently hampered by lack of equipment.

Despite billions of dollars in international aid after the ousting of the Taliban government in 2001, Afghanistan remains among the world's poorest nations.

Last month heavy snowfall and freezing weather killed 27 children, all under the age of five, in northern Jowzjan province.