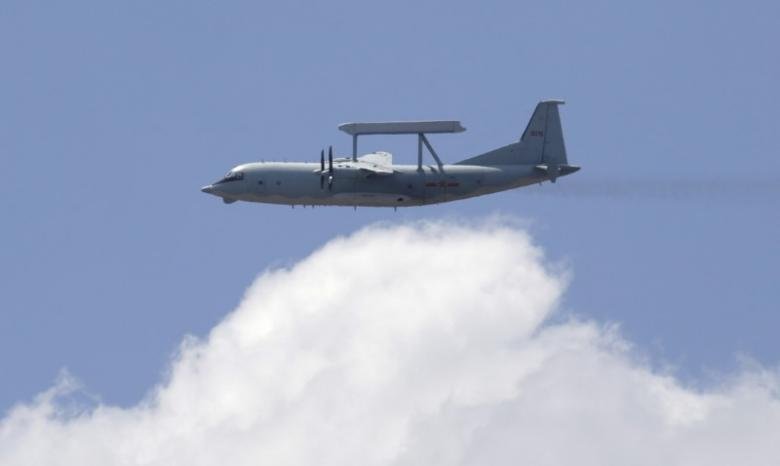 ---
A US Navy P-3 plane and a Chinese military aircraft came close to each other over the South China Sea in an incident the Navy believes was inadvertent, a US official told Reuters on Thursday.

The official, speaking on condition of anonymity, said the aircraft came within 1,000 feet (305 meters) of each other on Wednesday in the vicinity of the Scarborough Shoal, between the Philippines and the Chinese mainland.

The official added that such incidents involving Chinese and American aircraft are infrequent, with only two having taken place in 2016.

Trump backs 'One China' policy in first call with Xi

The US aircraft was "on a routine mission operating in accordance with international law," US Pacific Command told Reuters in a statement.

"On February 8, an interaction characterized by US Pacific Command as 'unsafe' occurred in international air space above the South China Sea, between a Chinese KJ-200 aircraft and a US Navy P-3C aircraft," it said.

The KJ-200 is a propeller airborne early warning and control aircraft based originally on the old Soviet-designed An-12.

"The Department of Defense and US Pacific Command are always concerned about unsafe interactions with Chinese military forces," Pacific Command added.

China's Xi tells Trump cooperation is only choice

"We will address the issue in appropriate diplomatic and military channels."

In Beijing, China's defense ministry told state media the Chinese pilot responded with "legal and professional measures".

"We hope the US side keeps in mind the present condition of relations between the two countries and militaries, adopts practical measures, and eliminates the origin of air and sea mishaps between the two countries," the Global Times cited an unnamed defense ministry official as saying.

Separately, China's Defense Ministry said in a statement on Friday three ships had left port for drills taking in the South China Sea, eastern Indian Ocean and Western Pacific.

China's blockade of Scarborough Shoal, a prime fishing spot, prompted the previous Philippine government to file a legal case in 2013 at the Permanent Court of Arbitration in the Hague, infuriating Beijing, which refused to take part.

While the court last year largely rejected China's claims, new Philippine president Rodrigo Duterte has sought to mend ties with Beijing and the situation around the shoal has largely calmed down.

China is deeply suspicious of any US military activity in the resource-rich South China Sea.

In December, a Chinese naval vessel picked up a US underwater drone in the South China Sea near the Philippines, triggering a US diplomatic protest. China later returned it.

The United States has previously criticized what it called China's militarization of its maritime outposts in the South China Sea, and stressed the need for freedom of navigation with periodic air and naval patrols nearby, angering Beijing.