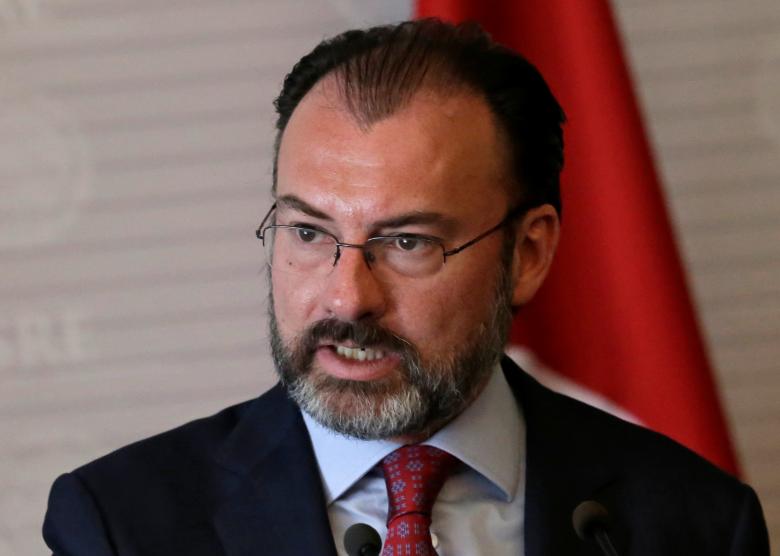 ---
MEXICO CITY: Mexican Foreign Minister Luis Videgaray on Thursday rejected a CBS news report that he had made changes to US President Donald Trump's speech announcing an executive order for the construction of a border wall with Mexico.

Videgaray took to social network Twitter, after CBS News quoted unnamed Mexican officials as saying he had worked with Trump's son-in-law, Jared Kushner, to tone down the speech.


I never thought I would use this phrase, but today I'm doing it: FAKE NEWS

— Luis Videgaray Caso (@LVidegaray) February 10, 2017


Trump wants to put up a border wall to keep illegal immigrants from entering the United States, but his insistence that Mexico will pay for it has been the source of friction between the two governments.

Trump orders building of Mexico border wall

In a report on Thursday, CBS News said Kushner last month showed a speech Trump was preparing to deliver at the US Department of Homeland Security to Videgaray, who was horrified, and the two changed the speech to cast the future of US-Mexico relations in a more positive light.

Then Kushner, who is also a senior adviser to Trump, went with Videgaray to brief Trump on the reworded version, and the president was ultimately convinced to accept the changes, it added.

Asked about the report, Videgaray told Reuters: "I played no part whatsoever in drawing up the president's speech."

A day after the construction order was issued, Trump tweeted that Mexican President Enrique Pena Nieto should cancel a planned meeting between the two leaders if Mexico was not prepared to pay for the border wall.


of jobs and companies lost. If Mexico is unwilling to pay for the badly needed wall, then it would be better to cancel the upcoming meeting.

— Donald J. Trump (@realDonaldTrump) January 26, 2017


Shortly afterwards, Pena Nieto scrapped the meeting.

Videgaray's denial is the second time in eight days that the Mexican government has knocked down reports about details of its relationship with Trump.

Mexican president condemns Trump's wall plan

On February 1, Pena Nieto's office dismissed as "lies" claims that Trump had threatened to send US troops to Mexico in a phone call with the Mexican president. The White House later said it was investigating leaks of the conversation.